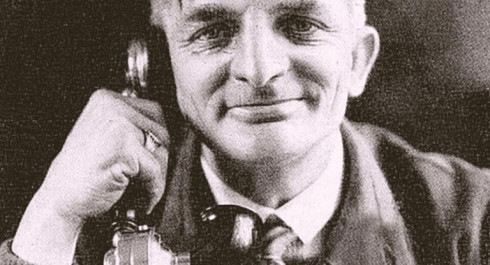 08.12.2023
Warte nur balde kängurst auch du
Warte nur balde kängurst auch du
Humor ist der Knopf, der verhindert, dass uns der Kragen platzt – diese brillant formulierte Einsicht stammt von einem Meister des Sprachwitzes: Joachim Ringelnatz.
Ob in seinen berühmten Kuttel Daddeldu-Seemannsliedern, den parodistisch-satirischen Turngedichten, in Sprüchen, Versen und Erzählungen, stets fasziniert Joachim Ringelnatz mit seiner einzigartigen Mischung aus kruder Spottlust, Sarkasmus, Zynismus und zarter Melancholie. Allein der Titel des Abends, Warte nur balde kängurst auch du, stellt Goethes berühmte Verse förmlich auf den Kopf.
Als Außenseiter, scharfsinniger Beobachter und literarischer Autodidakt verschaffte sich Ringelnatz einen festen Platz unter den bedeutenden Lyrikern des 20. Jahrhunderts. Erich Kästner gehörte zu seinen Förderern.
Kein Wunder, dass sich der renommierte Theater- und TV-Darsteller Ulrich Gebauer und der Musiker Ralf Schink nach ihrem erfolgreichen Erich-Kästner-Programm herzleid los, das vor ein paar Jahren am TNL gezeigt wurde, für ihre neue musikalisch-literarische Collage gerade Ringelnatz ausgesucht haben. Ulrich Gebauers besondere Textauswahl verspricht humorvoll-geistreiche Unterhaltung mit Ober- und Untertönen, die die ganze Skala der menschlichen Gefühle abschreitet, wenn er mal wehmütig, mal böse auf die Welt schaut und dabei stets lustvoll aus dem prallen Leben schöpft. Ralf Schinks musikalische Adaption der Texte schafft einen reichen Resonanzkörper voller Atmosphäre. Als überraschendes Extra verhilft Schinks Laserharfe dem Rhythmus der Sprache optisch zu einem Extra-Bühnenauftritt.
| Date | Hours |
| --- | --- |
| | 20H00 - 21H30 |
| | 20H00 - 21H30 |
| | 17H00 - 18H30 |
| | |
| --- | --- |
| jeunes | 8 € |
| Kulturpass | 1.5 € |
| Erwachsene, adultes | 25 € |
Content provided by Echo.lu – Content non-binding and subject to change.

To advertise your event (taking place in the capital) in our calendar, register all the information on Echo.lu and display it on our agenda.