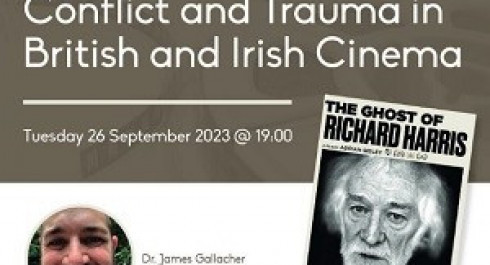 26.09.2023
Seminar on Conflict and Trauma in British and Irish Cinema (BIFFL - Autumn Edition 2023)
Seminar on Conflict and Trauma in British and Irish Cinema (BIFFL - Autumn Edition 2023)
Title : Conflict and Trauma in British & Irish Cinema
Country : LU
Format . seminar

Synopsis : Dr. James Gallacher will give a brief overview of depictions of Conflict and Trauma in British and Irish cinema with a focus Richard Harris as Cromwell (he starred as the lead character in the 1970 film "Oliver Cromwell" by Ken Hughes) amidst the backdrop of The Troubles.

The documentary "The Ghost of Richard Harris" is being screened on Thursday 21 September at the Cinémathèque within the BIFFL 2023 Autumn Edition.

Dr. Gallacher will be giving two lecture series under Irish Studies at the University of Luxembourg during the coming academic year, one entitled "Irish Writers in Context", addressing Jonathan Swift and Oscar Wilde, etc., and the other on "Conflict and Trauma in British and Irish cinema from WWII".
Tuesday 26.09.2023
19H00 - 19H00
Content provided by Echo.lu – Content non-binding and subject to change.

To advertise your event (taking place in the capital) in our calendar, register all the information on Echo.lu and display it on our agenda.