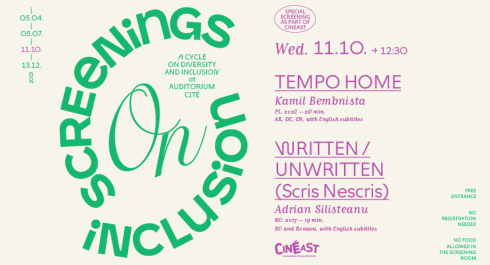 11.10.2023
Screenings on Inclusion - Tempo Home & Written/Unwritten
Screenings on Inclusion - Tempo Home & Written/Unwritten
Location : Cercle Cité, Auditorium Cité (entrance : 3, rue Genistre)
Total screening time : 40 min.
In the frame of the CinEast festival
In 2023, the Cercle Cité is organising a new screening series of short films and artists' films, which address different aspects of inclusion, accessibility, integration and discrimination in a philosophical and original way.
These topics are highly debatable in a society that on the one hand is becoming more and more aware of the subject of identity and diversity, but which nevertheless faces difficulties in adapting to this new awareness. Migration issues and the new wave of nationalism in Europe, the rights of people with special needs, the rights of people belonging to the LGBTQIA+ group or age discrimination and loneliness; the themes related to these debates are multifaceted and affect many of us.
For this screening, the Cercle Cité is giving carte blanche to the CinEast Festival to propose a screening as part of their Central and Eastern European Film Festival. The festival chose two short films linked by the theme of exclusion from the social majority - due to status (refugees) or belonging to a minority (Roma community).
Tempo Home by Kamil Bembnista (documentary, Poland, 20 min., 2022)
Is it possible to feel at home in a temporary place ? This documentary follows Leila, Amir and Baqir who are refugees living in the temporary camp at the former Berlin-Tempelhof airport. Facing this waiting room situation and the gaze of those who have a home, they try to hold on to the hope of a future stability.
In Arabic, German and English, with English subtitles.
Written/Unwritten (Scris Nescris) by Adrian Silisteanu (fiction, Romania, 19 min., 2017)
A Roma couple finds out that their underage daughter has just given birth. However, the girl cannot leave the hospital and is in danger of being blocked due to a problem with identity documents and administrative procedures. The tone begins to rise between the employees and the family, who feels treated as second-class citizens.
In Romanian and Romani, with English subtitles.
Free entrance, without registration. Subject to availability.
Food is not allowed in the screening room.
Wednesday 11.10.2023
12H30 - 13H30
Content provided by Echo.lu – Content non-binding and subject to change.

To advertise your event (taking place in the capital) in our calendar, register all the information on Echo.lu and display it on our agenda.