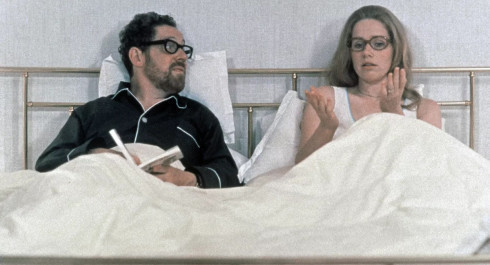 10.12.2023
Scènes de la vie conjugale (Cinema XXL)
Scènes de la vie conjugale (Cinema XXL)
Big Movies on the Big Screen
Scènes de la vie conjugale
Scener ur ett äktenskap Suède 1973 | Ingmar Bergman | vostFR | 169' | digital | Cast : Liv Ullmann, Erland Josephson, Bibi Andersson
► Best Foreign Language Film, Golden Globes 1975
Le couple en apparence solide que forment Marianne et Johann se délite à partir du moment où Johan s'éprend d'une jeune femme, Paula.
« C'est de toute évidence la beauté et la générosité de ce propos qui situe ce chef-d'œuvre au-dessus des considérations banales sur le couple. Dans ses Scènes de la vie conjugale, Bergman essaie de vaincre l'égocentrisme, en dévoilant ce qu'une communion des esprits peut contenir d'exaltant dans notre passage – souvent distrait – sur cette terre. Est-ce beaucoup dire que l'on y reconnait ce que nous enseignent d'autres évangiles, et que ce rêve-là est l'un des plus beaux que charrie l'inconscient collectif de l'humanité ? » (Le Quotidien de Paris)
« Avec un duo d'acteurs éblouissants à qui Bergman offre un dialogue abondant et précis qu'ils disent à la virgule près, il dissèque les différents états d'un couple avec une acuité qui met ce feuilleton au niveau d'une tragédie moderne. » (Le Cinématographe)
Sunday 10.12.2023
17H00 - 20H00
| | |
| --- | --- |
| Tarif plein | 3.7 € |
| Tarif réduit | 2.4 € |
| Kulturpass | 1.5 € |
Content provided by Echo.lu – Content non-binding and subject to change.

To advertise your event (taking place in the capital) in our calendar, register all the information on Echo.lu and display it on our agenda.