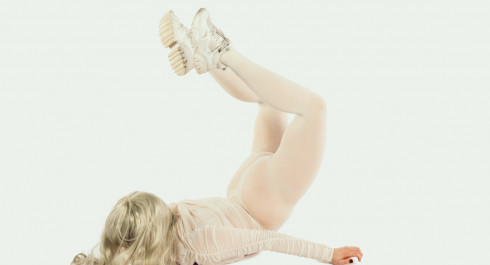 05.12.2023
Sarah Baltzinger
FR Avec Vénus Anatomique, la danseuse et chorégraphe Sarah Baltzinger, lauréate de la résidence de création à la chapelle Sainte-Marie d'Annonay, signe une nouvelle chorégraphie plongeant cinq femmes dans un univers absurde et horrifique, entre étude anatomique et fiction féministe. Fascinée par le corps marionnettique, Sarah Baltzinger souhaite construire un dialogue entre les corps bricolés et les modèles féminins dysfonctionnels. Vénus Anatomique invite le spectateur à entrer dans une fabrique à « Vénus » peuplée de corps en kit, disloqués et mécaniques. Inspirée par la culture populaire et les mythes liés au féminin, Sarah Baltzinger y révèle un monde d'injonctions qui a dépossédé les femmes de leur corps et les a pathologisé. Vénus Anatomique est une ode à la déconstruction du corps féminin en tant qu'objet de contrôle et d'appropriation.

EN Self-styled movement artist Sarah Baltzinger shares her time between Luxembourg and France. Her large-scale Fury announced her talent as a choreographer in 2017. A year later, she participated in the TalentLAB with the project What Does Not Belong to Us, a piece about heritage in collaboration with her long-term musical partner, Guillaume Jullien. Sarah Baltzinger returns to the Grand Théâtre with a new work, Vénus Anatomique, which she developed and previewed at this year's residency programme "La Chapelle de la danse" initiated by Cie La Baraka and La Chapelle in Annonay. Fascinated by the dislocated shapes of a "puppet body", she puts five female dancers on stage to explore distortion, body dysmorphia and the tyranny of the standardised female form. Vénus Anatomique invites the audience to enter a "Venus factory" populated by dislocated and mechanical kit bodies.

DE Sarah Baltzinger ist fasziniert vom Unheimlichen, vom Körper als Marionette. Mit Vénus Anatomique, das während einer Künstlerresidenz in Annonay entsteht, schafft sie ein Stück in dem fünf Frauen in eine ebenso schaurige wie absurde Welt zwischen anatomischer Studie und feministischer Dystopie eintauchen. Die Choreografin lädt ein in eine "Venus-Fabrik", die identische Körper produziert, dysfunktionale weibliche Modelle, die sich immer weiter ausbreiten. Sie treibt die Idee der Uniformierung bis zum Äußersten und zeigt verrenkte, mechanische Körper aus Bausätzen, die verzweifelt versuchen, sich selbst zu reparieren. Inspiriert von der Populärkultur und weiblichen Mythen verschiebt Baltzinger unseren Blick, offenbart unsere Zerbrechlichkeit und dekonstruiert unser Bild des Frauenkörpers.
| Date | Hours |
| --- | --- |
| | 20H00 - 21H00 |
| | 20H00 - 21H00 |
Content provided by Echo.lu – Content non-binding and subject to change.

To advertise your event (taking place in the capital) in our calendar, register all the information on Echo.lu and display it on our agenda.