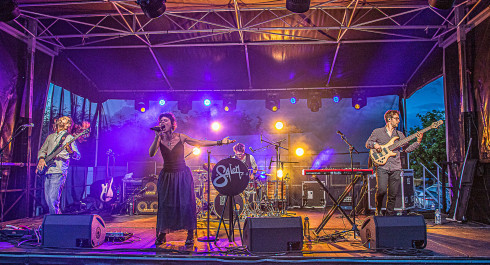 09.06.2023
Salem 2.0 - Fusion Pop Jazzy & Trip Hop
Salem 2.0 - Fusion Pop Jazzy & Trip Hop
SaleM 2.0, duo original, composé de GrM Lecouflet à la basse (Jammerz Trio...) et d'AleX Vétillard à la voix (Al'Heks...), vous propose un interlude musical sensible et coloré aux accents Pop Jazzy, en revisitant des grands standards de la musique soul, folk, rock, funk...
Une rencontre surprenante entre un jeu de basse mélodique aux vibrations étonnantes et une voix chaude subtilement écorchée, tel est le pari que SaleM 2.0 s'est fixé. En effet, il est peu habituel d'entendre cet accord et pourtant...
SaleM 2.0 dévoile un univers original et pluriel : Otis Redding, Bill Withers, Aretha Franklin, The Rolling Stones, Stevie Wonder... conviant le public à redécouvrir ces
morceaux inscrits dans notre inconscient collectif.
Forts de leurs inspirations mélodiques, de ces contrastes assumés et des instants partagés sur les routes et les scènes, ils se sont évadés sur les chemins de la composition, dévoilant des horizons nouveaux qui invitent le spectateur à un voyage onirique hypnotique... Entre ombres et lumières, rêve et réalité, dedans et dehors, amour et haine, ils inventent un conte, une légende musicale aux accents trip-hop qui vous embarquera hors du temps !
Nul ne peut se trouver insensible aux interprétations audacieuses de ce duo insolite, généreux et dynamique sur scène où force et fragilité s'accordent pour laisser place à
une délicate harmonie...
Friday 09.06.2023
20H30 - 20H30
Content provided by Echo.lu – Content non-binding and subject to change.

To advertise your event (taking place in the capital) in our calendar, register all the information on Echo.lu and display it on our agenda.