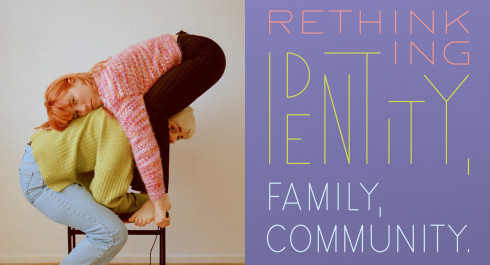 05.05.2023
Rethinking Identity, Family, Community
Rethinking Identity, Family, Community
Photography today, and its dissemination on social networks, has come to have a crucial role in the construction and deconstruction of identities. It is all the more interesting to see how artists reinterpret these images linked to individuals and their inter-relations with others. In fact, "rethinking identity" in contemporary creation can lead us to take different pathways that surpass the classic stereotypes and cliches.
Today, these mutations of identity, whether individual, cultural or territorial, are expressed through artistic interrogations that touch on new typologies of the concept. The concepts of family and community in identity-based research are thus presented in the selection of the six artists showcased in the Ratskeller.
Seeking protection from the family (in the broad sense of the word) and the need for a certain community in order to exist, Ulla Deventer uses photography, video and installations to broach the taboo themes of everyday violence in an inter-disciplinary manner.
Marked by the arrival of her brother at the age of 13, Karzolina Wojtas's photo-installations show how sibling rivalry has influenced her quest for identity.
We also find this self-mockery in another form in the humorous tableaux vivants of Finnish artist Emma Sarpaniemi. In her photographic practice, she plays with the image of femininity by exploring her relationships of complicity with her model friends.
With images from her dreamlike world, Cihan Çakmak interrogates her Kurdish origins while posing gender-based questions regarding the traditional patriarchal culture of this community.
In Jojo Gronostay's multimedia work the theme of identity often refers to his African origins. Inspired by fashion and architecture, he created a collection of worn clothes found at the Accra market in Ghana, entitled Dead White Men's Clothes.
For Lisa Kohl, reflections on globalization and migrations are not expressed in a direct and investigatory manner but are translated by a sensitive and poetic artistic approach.
Ratskeller exhibition space (rue du Curé)
Exhibition opening
Thursday 4 May at 5 p.m.
Free entrance, no prior registration needed
Free guided tour every Saturday
06.05 at 3 p.m. (EN) with Anastasia Chaguidouline
20.05 at 3 p.m. (LU/DE)
27.05 at 3 p.m. (FR)
03.06 at 3 p.m. (EN)
10.06 at 3 p.m. (LU/DE)
17.06 at 3 p.m. (FR)
24.06 at 3 p.m. (EN)
Free entrance and without registration, subject to availability
Free guided tours with the curator Paul di Felice
Saturday 13.05 at 3 p.m. (FR)
Saturday 01.07 at 3 p.m. (LU/DE)
Free entrance and without registration, subject to availability
© Emma Sarpaniemi, When the Sun goes down We see Lemons, Pink Lemonade Lemons (2019)
From Friday 05.05.2023 to Sunday 02.07.2023
19H00 - 19H00
Content provided by Echo.lu – Content non-binding and subject to change.

To advertise your event (taking place in the capital) in our calendar, register all the information on Echo.lu and display it on our agenda.