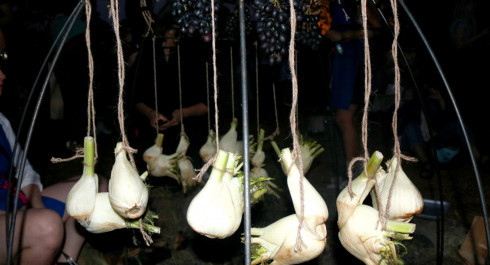 06.12.2023
Resurrecting Flavours: Ash & Wax Preservation Workshop
Resurrecting Flavours: Ash & Wax Preservation Workshop
Workshop for all by gobyfish (London)
Within the framework of the exhibition The Collective Laboratory
Languages: EN/FR/DE/LU
Fee:10€
Students: 5€
Kulturpass: 1,5€
Booking:
mudam.com/collective-laboratory-performance
The combination of ash and wax preservation techniques symbolises a meeting point between life and death, the material and spiritual worlds, the landscape and the cosmos. Fire, which transforms substances into ash, demonstrates the way in which something can metamorphose from a tangible form to something formless. Ash, with its fragmented remains and traces of the past, offers the possibility of a new beginning. It also a reminder that in its 'dead' state, ash produces nutrient-rich soil that enables crop growth, offering the possibility of rebirth and regeneration.
In this workshop, gobyfish proposes to showcase the preservation of cheese in ash and fruit in wax, combining ancient and modern techniques. By delving into the practices of our ancestors, we hope to foster an appreciation of the wisdom and ingenuity they used to securer their survival in times of scarcity. We believe that reflecting on ancient preservation techniques leads us to question the effects of modern society on our planet and our health. Are we overly dependent on artificial preservatives and techniques that disconnect us from the earth's natural cycles? By drawing inspiration from ancient conservation techniques, we are encouraged to contemplate our relationship with nature, the value of sustainable practices and the need to preserve our natural environment.
Mudam Luxembourg – Musée d'Art Moderne Grand-Duc Jean
3 Park Dräi Eechelen
L-1499 LUXEMBOURG

Wednesday 06.12.2023
19H00 - 21H00
| | |
| --- | --- |
| Gebühr, Fee, Tarif | 10 € |
| Studierende, Students, Étudiant·e·s | 5 € |
| Kulturpass, Kulturpass, Kulturpass | 1.5 € |
Content provided by Echo.lu – Content non-binding and subject to change.

To advertise your event (taking place in the capital) in our calendar, register all the information on Echo.lu and display it on our agenda.