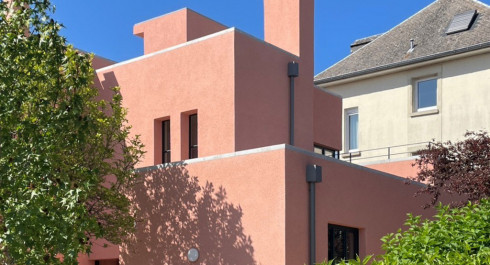 26.09.2023
Réparer la Villa Kutter
Conçue et construite par Hubert Schumacher pour Joseph Kutter et sa femme Rosalie Sedlmayr, la Villa Kutter est une des premières – si ce n'est la première – maison moderne construite au Grand-Duché de Luxembourg. Située à Limpertsberg, la construction de cette maison commence en 1929 et s'achève probablement en 1931, année où son propriétaire l'immortalise sur un tableau.
Chargée de restaurer la maison fin 2019, Diane Heirend s'est engagée dans une recherche intensive pour retrouver des documents d'archives qui lui permettraient de redonner à cette maison son éclat d'origine. En croisant les sources, elle a établi une liste non exhaustive des architectes à l'œuvre et des réflexions et transformations dont la maison a fait l'objet entre 1937 et 1981.
Après 2 ans de recherches, Diane Heirend et son équipe ont pu entamer le chantier, qui a duré 1 an et demi. Pendant ce temps, les investigations sur place se sont poursuivies, au fur et à mesure des interventions réalisées sur le bâti. Grâce à des maîtres d'ouvrages clairvoyants et entourée d'artisans passionnés qui ont mis toute leur fierté et leur savoir-faire dans la « réparation » de cette maison, Diane Heirend a ainsi fait renaître de ses cendres un monument du patrimoine luxembourgeois.
Intervenant : Diane Heirend (architecte, urbaniste, gérante chez DIANE HEIREND architecture & urbanisme)
Conférence suivie d'une discussion avec les artisans intervenus sur le chantier
Langue : Français
SUR INSCRIPTION, gratuit
Organisée par le luca - Luxembourg Center for Architecture, an collaboration avec DIANE HEIREND architecture & urbanisme, dans le cadre des Journées européennes du Patrimoine 2023.
Tuesday 26.09.2023
18H30 - 18H30
| | |
| --- | --- |
| Réparer la Villa Kutter | 0 € |
Content provided by Echo.lu – Content non-binding and subject to change.

To advertise your event (taking place in the capital) in our calendar, register all the information on Echo.lu and display it on our agenda.