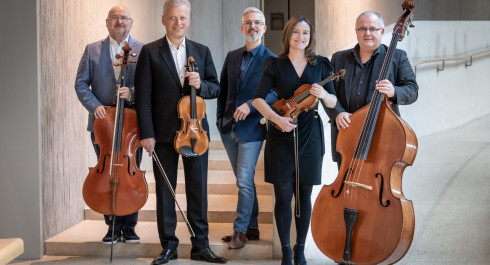 Piano Days 2023: Schubertiade
Piano Days 2023: Schubertiade
Lundi, le 27 mars 2023 à 20h
Auditorium du Conservatoire
Organisateur: CVL
KOCH Laurence, violon
SCHNEIDER Ilan , alto
GIAMPELLEGRINI Claude , violoncelle
KIEFFER André , contrebasse
MARZINOTTO Nicolas, piano
Composée en 1816, la Sonatine en Ré Majeur est encore marquée par l'influence de Mozart. Peu développée, elle est composée de trois mouvements classiques, Allegro molto, Andante et Allegro vivace.
En pleine période romantique, la Sonate pour Arpeggione est composée en 1824 pour un instrument aujourd'hui tombé en désuétude. Elle est jouée le plus souvent au violoncelle ou à l'alto. La version que nous jouons ce soir, propose un arrangement singulier. La sonate s'ouvre avec un Allegro moderato dans lequel s'opposent deux thèmes très différents ; l'un est mélancolique tandis que l'autre est vif et dansant. Le deuxième mouvement Adagio est conçu comme un Lied rêveur avant un Allegretto de forme rondo à plusieurs épisodes.
Le Quintette « La Truite » composé en 1819, s'ouvre par un Allegro vivace, enthousiaste et chantant, suivi d'un Andante plus douloureux. Le Scherzo, comme souvent, est vif et vigoureux. Vient ensuite un mouvement atypique Allegro giusto, lumineux et entraînant, constitué d'un thème et cinq variations d'après Die Forelle (La Truite), lied ô combien célèbre de Schubert. Après ce mouvement parfois empreint de dramaturgie, le compositeur balaye ces ombres avec un Allegro vivace optimiste et plein de bonheur.
Programme:
Franz SCHUBERT (1797-1828)
. SONATINE en ré majeur, D. 384 pour violon et piano.
Allegro molto
Andante
Allegro vivace
. SONATE pour arpeggione et piano D. 821.
Allegro moderato
Adagio
Allegretto
----- Pause -----
. QUINTETTE avec piano D.667, « La Truite ».
Allegro vivace
Andante
Scherzo : Presto
Tema e variazioni : Andantino – Allegretto
Allegro giusto.
Flyer Piano Days 2023
Renseignements et vente:
Entrée libre (sans billet)
Monday 27.03.2023
20H00 - 22H00
Content provided by Echo.lu – Content non-binding and subject to change.

To advertise your event (taking place in the capital) in our calendar, register all the information on Echo.lu and display it on our agenda.