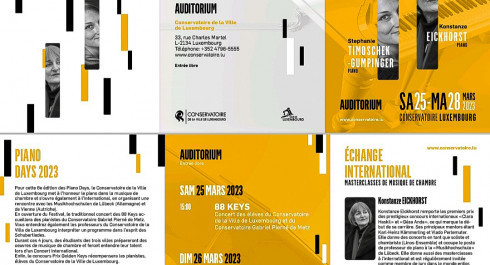 Piano Days 2023: Concours "Prix Golden Keys"
Piano Days 2023: Concours "Prix Golden Keys"
Dimanche, le 26 mars 2023 à 10h-20h
Auditorium du Conservatoire
Organisateur: CVL
Concours "Prix Golden Keys" – 6e édition – Session 2023
Concours de piano des élèves du Conservatoire
10h00-12h00 Concours catégorie A, B et C
14h00-18h00 Concours catégorie C et D
19h00 Remise des prix
Le Concours, ouvert aux pianistes âgés de 7 à 18 ans, est destiné à mettre en valeur des jeunes talents inscrits dans les classes de piano du Conservatoire.
Veuillez trouver ci-dessous le règlement du concours dans lequel figurent aussi les modalités d'inscription (date limite : Mardi 14 Février 2023)
Règlemet Concours Golden Keys 2023
Flyer Piano Days 2023
Sunday 26.03.2023
10H00 - 20H00
Content provided by Echo.lu – Content non-binding and subject to change.

To advertise your event (taking place in the capital) in our calendar, register all the information on Echo.lu and display it on our agenda.