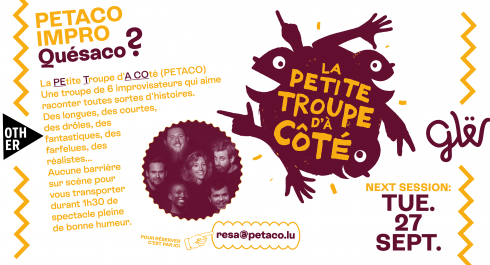 PETACO at De Gudde Wëllen
PETACO at De Gudde Wëllen
DOORS: 19:00
SHOW: 20:0
Comment presenter la PEtite Troupe d'A COté (PETACO)?
- On est PETIT parce qu'on n'est pas grand, et on nous a toujours dit que
tout ce qui était petit était mignon;
- On est une TROUPE proposant des spectacles d'improvisation divers et variés;
- On est A COTE des autres troupes, pour leur proposer de jouer avec nous de nouvelles choses. Et comme le Luxembourg est un petit pays, on est forcément à coté de toi;
En fait, on est surtout des amis qui veulent s'amuser sur scène et le montrer au maximum de gens.
Bref si tu recherches des spectacles d'improvisation au Luxembourg, la Petite Troupe d'A Coté ne sera jamais bien loin.
Réservez vite vos places pour assister à ce casting qui s'annonce fou!
Réservations par e-mail sur resa@petaco.lu !
A bientôt
Votre Petaco
Content provided by Echo.lu – Content non-binding and subject to change.

To advertise your event (taking place in the capital) in our calendar, register all the information on Echo.lu and display it on our agenda.