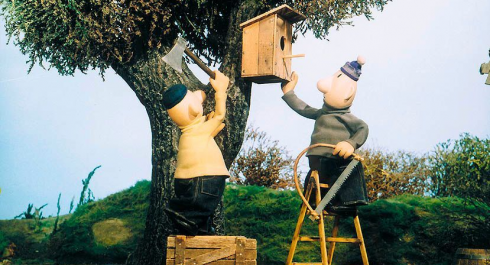 Pat et Mat – Vintage Edition (Cinema Paradiso)
Pat et Mat – Vintage Edition (Cinema Paradiso)
Dans le cadre du festival CinEast
Pat & Mat – Vintage Edition
République tchèque 1979-83 | sans paroles | 53 minutes | Programme de 6 courts-métrages d'animation de : Lubomír Beneš
u Animated short film programme | almost no spoken words, suitable for all children
Pat et Mat sont deux amis inséparables qui partagent une passion commune pour le bricolage. Tous deux déploient toute leur énergie et surtout leur imagination pour cela : mais attention aux nombreux rebondissements et cascades !
Pat and Mat are two inseparable friends that are both do-it-yourself enthusiasts. They display their whole energy and above all their imagination into it: but careful of the many stunts, as well as countless twists and turns!
Programme :
Gramophone Record Player (Gramofón) République tchèque 1981 | 9'
Peinture Painting Job (Maľovanie) République tchèque 1982 | 9'
Image Picture (Obraz) République tchèque 1979 | 8'
Déménagement Removal (Sťahovanie) République tchèque 1979 | 9'
Pluie Rain (Déšt)
République tchèque 1982 | 9'
Cabine d'oiseau Bird feeder (Búdka) République tchèque 1983 | 9'
« Avec Pat et Mat, le bricolage devient un art burlesque que n'aurait pas renié Chaplin. Ils sont toujours à la recherche d'une idée potentiellement géniale mais délicieusement absurde. S'ils sont toujours guidés par la volonté d'améliorer leur quotidien, ils ne se formalisent pas devant l'échec et ne semblent aucunement attachés à la valeur matérielle des choses. » (AbusdeCine.com)
Content provided by Echo.lu – Content non-binding and subject to change.

To advertise your event (taking place in the capital) in our calendar, register all the information on Echo.lu and display it on our agenda.