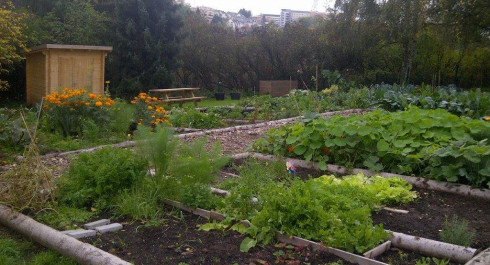 Participez à un jardin communautaire
Participez à un jardin communautaire
Vous êtes intéressé par le concept et aimeriez bénéficier d'une parcelle ?
Un jardin communautaire (à la différence des cités jardinières ou des jardins communaux) est un jardin créé, cultivé et géré par un groupe d'habitants selon des critères exclusivement écologiques, c.-à-d. sans pesticides, ni engrais chimiques, ni organismes génétiquement modifiés (OGM).
Le jardin est réservé aux habitants du quartier dans lequel le jardin communautaire est situé, pour permettre aux jardiniers de s'y déplacer sans voiture et de s'y retrouver entre voisins et amis du quartier.
Tout au long de l'année, la Ville offre aux jardiniers des formations en jardinage écologique (exécutées par un formateur externe) et le groupe de jardiniers est encadré, en première année par un modérateur engagé par la Ville de Luxembourg.
Un premier jardin (projet pilote) a été lancé en mai 2013 à Bonnevoie-Kaltreis. Les jardins de Limpertsberg et Gare/Ville Haute ont ouvert leurs portes en mai 2014, un 4ième jardin a été lancé en mai 2017 à Pfaffenthal et un 5ième à vu le jour en mai 2018 au quartier Grund.
Reneseignez-vous auprès de la commune de Luxembourg:
Délégué à l'Environnement
Nicole Isaac
Tél. : 4796-4772
Email : nisaac@vdl.lu
Time
3 juin 2022 9.00-12.00 & 13.30-17.00
Location(s)
Ville de Luxembourg
42 pl. Guillaume II,
L- 2090 Luxembourg
Content provided by Echo.lu – Content non-binding and subject to change.

To advertise your event (taking place in the capital) in our calendar, register all the information on Echo.lu and display it on our agenda.