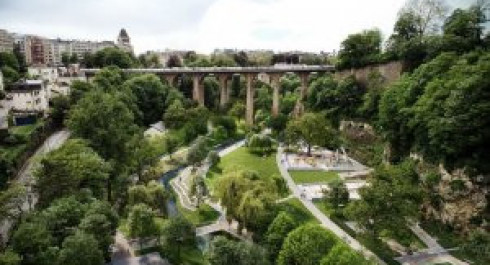 Ökologische Renaturierung des Petruss-Tals
Ökologische Renaturierung des Petruss-Tals
Vorstellung der Arbeiten zur Renaturierung des Petrussbaches und Neugestlatung des Petrussparks.
Die malerische Landschaft der luxemburgischen Hauptstadt wird in hohem Maße durch das Petruss-Tal geprägt, das als Motiv für unzählige Panoramaaufnahmen dient. Charakteristisch für das Tal sind die Felswände, die als natürliche Verlängerung der städtischen Festungsanlage fungierten, sowie die grüne Landschaft mit Bäumen, Hecken, Rasenflächen und Blumen.
Mitten durch das Tal schlängelt sich die Petruss, ein kleiner Bach, der in den 1930er-Jahren kanalisiert wurde. Sie entspringt im Wald von Dippach, in der Flur Aalheck. Ihre Hauptzuflüsse sind der Aalbaach und der Zéissengerbaach. Die 12,8 Kilometer lange Petruss durchquert das Stadtviertel Grund, bevor sie in der Nähe der Rue St Ulric in die Alzette mündet.
Folgende Ziele werden mit dem Projekt verfolgt:
Begegnung des Problems des starken Hochwasserabflusses
Berücksichtigung der zahlreichen, in der Talsohle gelegenen Infrastruktureinrichtungen
Dafür Sorge tragen, dass sich die Hochwassersituation für die im Tal befindlichen Privatgrundstücke nicht verschlechtert
Die geplante Renaturierung und Neugestaltung des Petruss-Tals wird durch die Umsetzung der folgenden Elemente geprägt:
Anlegung eines Erholungs- und Freizeitbereichs am Parkeingang (Rue St Ulric)
Erneuerung der Spielplätze und Sportanlagen sowie des Fitness-Parcours und der Minigolfanlage am Parkeingang (felsseitig)
Einbindung des bestehenden Skateparks in die neue Anlage
Anbringen von Sitzstufen und Balkonen an verschiedenen Stellen der Uferböschung der Petruss
Bau eines 4,50 Meter breiten befahrbaren Wegs entlang des Wasserlaufs über die gesamte Länge des Tals sowie eines zwei bis drei Meter breiten, nicht befahrbaren Wegs auf der gegenüberliegenden Seite des großen Rundwegs, in Nähe des Wasserlaufs
Neubau von Ingenieurbauwerken als Ersatz von Bestandsbauwerken, einschließlich sechs neuer Brücken (zwei befahrbare Brücken und vier Fußgängerbrücken)
Wiedereinführung von Fischarten durch das Anlegen eines Fischpasses, der eine Fischwanderung zwischen den Flüssen Alzette und Petruss ermöglicht
Horaire
3 juin 2022 10.00-11.00
Lieu
Parking, vallée de la Pétrusse, rue Saint-Ulric
Producteur/porteur du projet
Ville de Luxembourg
Rocade, 3, rue du Laboratoire
L-1911 Luxembourg
Contact
Ralph Moelter rmoelter@vdl.lu
T +352 4796-3263; M: 691983263
Content provided by Echo.lu – Content non-binding and subject to change.

To advertise your event (taking place in the capital) in our calendar, register all the information on Echo.lu and display it on our agenda.