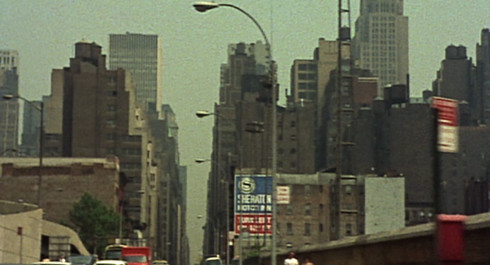 News from Home (Rétrospective Chantal Akerman)
News from Home (Rétrospective Chantal Akerman)
News from Home
Belgique-France 1976 | vo | 85' | c | De : Chantal Akerman
Expérience cinématographique unique, qui part d'un principe simple : filmer New York sous toutes ses formes, en narrant les correspondances de la cinéaste avec sa mère.
« Des rues désertes du Bronx, au centre-ville tentaculaire de Manhattan, des restaurants complets, aux bars vides, aux lieux de vie éteints. Akerman va filmer la vie, la routine, mais aussi la vacuité de la métropole, sans aucun artifice et avec une sincérité étonnante. Des regards et des sourires mais aussi l'ennui et la mélancolie, le film nous montre l'impalpable, l'indicible. Son tour de force, c'est d'allier le point de vue d'Akerman aux mots remplis de douleur, mais également de tendresse, de sa mère. » (Le Blog du cinéma)
« By punctuating her 16 mm footage of desolate cityscapes with her own voice reading her mother's letters, Akerman creates the perfect combination of the personal and the formal. The film's long takes add up not to a simple compendium of detached urban imagery but to a kind of autobiography. » (Criterion)
Content provided by Echo.lu – Content non-binding and subject to change.

To advertise your event (taking place in the capital) in our calendar, register all the information on Echo.lu and display it on our agenda.