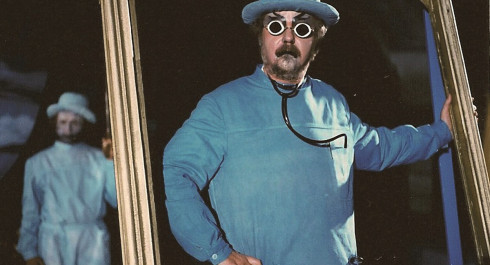 11.12.2023
Mumm Sweet Mumm (Cinéma et théâtre)
Mumm Sweet Mumm (Cinéma et théâtre)
Introduction au film par le metteur en scène Jacques Schiltz et d'autres membres de l'équipe de la création
Mumm Sweet Mumm
Luxembourg 1989 | Paul Scheuer, Georges Fautsch, Maisy Hausemer | vo | 105' | digital | Cast : David F. Quinlan, Conny Scheel, Henri Losch, Jeanne Ries | D'après : Mumm Séis d'Edmond de La Fontaine, dit Dicks
Den John E. Diderich, e räichen Amerikaner, reest op Lëtzebuerg fir endlech de Musical aus Clausen ze gesinn, aus deem seng Bomi him ëmmer Lidder gesongen huet, an an deem si als jonkt Meedchen d'Haaptroll gespillt hat. Nodeems hien eng déck Zomm Sue sprange gelooss huet, ginn dräi verschidde Regisseure sech dru fir dat Stéck nei opzeféieren, et handelt sech heibäi ëm d'Mumm Séis vum Dicks.
« Le film est constamment drôle, débordant d'imagination. [...] Mumm Sweet Mumm est un film enthousiasmant qui brosse le portrait légèrement ironique d'un milieu particulier en se moquant à l'occasion - gentiment, comme le fait toujours l'AFO - d'une mentalité assez typiquement luxembourgeoise. Le cinéma luxembourgeois n'est pas assez riche pour bouder ce film qui n'est peut-être pas le plus achevé mais certainement un des plus originaux et des plus divertissants de son histoire. » (Viviane Thill, Forum, novembre 1989)
Monday 11.12.2023
20H30 - 22H15
| | |
| --- | --- |
| Tarif plein | 3.7 € |
| Tarif réduit | 2.4 € |
| Kulturpass | 1.5 € |
| Entrée gratuite (Ticket spectacle De Geescht oder D'Mumm Séis) | 0 € |
Content provided by Echo.lu – Content non-binding and subject to change.

To advertise your event (taking place in the capital) in our calendar, register all the information on Echo.lu and display it on our agenda.