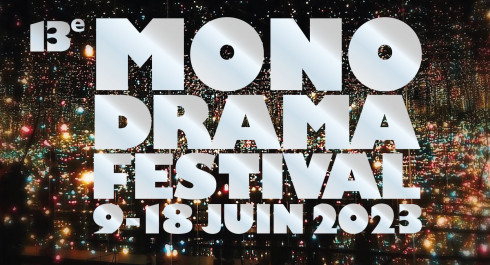 13.06.2023
MONODRAMA FESTIVAL - In memoriam & Confession Publique
MONODRAMA FESTIVAL - In memoriam & Confession Publique
19:00
In memoriam | Monolabo | création
By and with Sylvia Camarda
Luxembourg
Dance
A performance around time and dust.
Light Karl Humbug
20:00
Confession Publique
De Mélanie Demers
Avec Angélique Willkie et la participation d'Anne-Marie Jourdenais
Canada
En français et anglais
Confession Publique est un solo autobiographique qui n'a jamais vu le jour. Relégué aux oubliettes, c'est Angélique Willkie qui a fait remonter à la surface le désir pour cet objet artistique. Nous y abordons les thèmes du privé, du secret, du profond et du marécageux en guise de rébellion contre le vulgaire déballage auquel nous sommes tous les jours confrontés. Il y est question de noblesse et d'élégance dans la confession de nos travers, de nos failles et de nos défauts de fabrication. Nous tentons d'y voir le dévoilement comme un geste poétique, une nécessité, une petite vanité.
La protagoniste se tourne vers les bas-fonds dans une plongée en elle et en nous. Le rapport est intime et intimidant. La représentation devient la toile de fond à ces questions 1000 fois posées : Notre lien au monde, l'ascendance de l'environnement sur nos destins et le pouvoir des autres qui dictent et dominent nos choix de vie.
Idéation, mise en scène et chorégraphie Mélanie Demers
Direction des répétitions Anne-Marie Jourdenais
Dramaturgie Angélique Willkie
Musique originale Frannie Holder
Musique additionnelle extrait de The Fairy Queen, composé par Henry Purcell et chanté par
Angélique Willkie
Scénographie Odile Gamache
Lumière Claire Seyller
Costumes Elen Ewing
Direction technique Hannah Kirby
Direction de production Dominique Sarrazin
Remerciements Éléonore Loiselle
Coproduction MAYDAY, La Chapelle Scènes Contemporaines (Montréal, Canada), Agora de la danse (Montréal, Canada), Centro per la Scena Contemporanea/Operaestate Festival (Bassano del Grappa, Italie)
Avec le soutien du Conseil des arts du Canada, du Conseil des arts et des lettres du Québec et du Conseil des arts de Montréal
Tuesday 13.06.2023
19H00 - 21H15
| | |
| --- | --- |
| Tarif plein | 20 € |
| Tarif réduit | 8 € |
| Kulturpass | 1.5 € |
Content provided by Echo.lu – Content non-binding and subject to change.

To advertise your event (taking place in the capital) in our calendar, register all the information on Echo.lu and display it on our agenda.