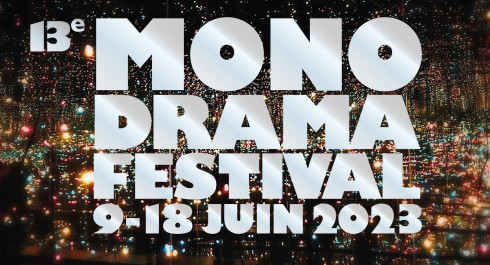 10.06.2023
MONODRAMA FESTIVAL - Juste un homme, avec un fusil & Be Arielle F
MONODRAMA FESTIVAL - Juste un homme, avec un fusil & Be Arielle F
19:00
Juste un homme, avec un fusil | Monolabo | création
De Godefroy Gordet
Avec Romain Ravenel
Luxembourg
En français
Dans un de ces petits magasins de ville,
Un homme vend des télévisions,
Des programmes défilent,
Toute la journée,
Un mardi,
Sa vie part en vrille
Un mardi,
Sa femme le quitte,
Le mardi d'après,
À la télé,
Une édition spéciale,
Un type,
A été kidnappé
Mise en scène Godefroy Gordet
Musique Stephany Ortega et Sylvain Montagnon
Création numérique Guillaume Walle
Scénographie Éric Chapuis
Régie Juliette Cassez
Production Cie Le barbanchu
Coproducteurs INECC Lorraine, Théâtre d'Esch
Partenaires Kulturfabrik, Rocklab, TRAM Maizières-les-Metz, LED Thionville, SACEM
Luxembourg, Fondation Sommer, Fundamental
20:00
Be Arielle F
De Simon Senn
Avec Simon Senn et la participation d'Arielle F et un corps virtuel
Suisse
En français
Le plasticien et vidéaste genevois Simon Senn achète en ligne la réplique numérique d'un corps féminin, puis part à la rencontre de celle dont il incarnera le corps grâce à la réalité virtuelle. Il témoigne en scène de cette expérience troublante.
« Tout a commencé quand j'ai rencontré Arielle. Enfin pas la vraie Arielle. Tout a commencé quand j'ai rencontré son clone digital, sa réplique numérique. C'était l'année passée, je démarrais un nouveau projet artistique et je faisais des tests avec un système de captation de mouvement immersif en réalité virtuelle. Pour ces tests, j'avais besoin d'un corps qui partage à peu près les mêmes proportions corporelles que moi. Alors je suis allé faire du shopping sur Internet. Je suis rapidement arrivé sur un site qui s'appelle Scanstore3d.com. J'ai consulté le catalogue des corps masculins, mais je ne trouvais pas de corps à ma taille. Ils étaient tous bien trop baraqués. Je suis allé voir le catalogue féminin et j'ai acheté la réplique digitale d'une femme parfaitement à ma taille. Je l'appelle Arielle. »
Production Anne-Christine Liske, Compagnie Simon Senn
Coproduction Théâtre Vidy-Lausanne - Le Grütli, Centre de production et de diffusion des Arts vivants - Théâtre du Loup
Diffusion et tournée Théâtre Vidy-Lausanne
Avec le soutien de Porosus - Pro Helvetia - Fondation Ernst Göhner - Pour-cent culturel Migros - Loterie Romande
Saturday 10.06.2023
19H00 - 21H30
| | |
| --- | --- |
| Tarif plein | 20 € |
| Tarif réduit | 8 € |
| Kulturpass | 1.5 € |
Content provided by Echo.lu – Content non-binding and subject to change.

To advertise your event (taking place in the capital) in our calendar, register all the information on Echo.lu and display it on our agenda.