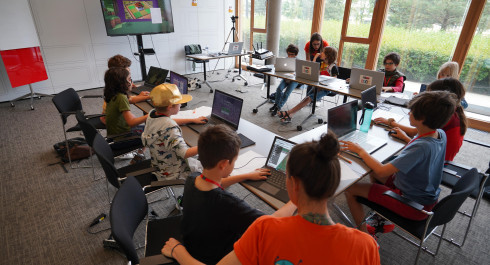 21.01.2024
Minecraft & Sustainable City | Course for Ages 7-10 in English
Minecraft & Sustainable City | Course for Ages 7-10 in English
Minecraft & Sustainable City | Course for Ages 7-10 in English
(9 lessons of 3 hours each)
No prior knowledge is required.
Dive into sustainability through the virtual world of Minecraft! Join us for an exciting 9-lesson journey where kids will embark on an eco-friendly adventure in a Minecraft city.
Course Overview:
- 9 immersive lessons focused on sustainability.
- Understand the concept of resources and their connection to sustainability.
- Harness the power of unlimited resources like wind and solar energy.
- Learn the art of generating clean water sustainably.
- Identify best sustainable practices for their own homes.
- Explore Minecraft Education's sustainable city and its functionality.
- Discover how sustainable practices enhance a city's operation.
- Apply newfound knowledge to construct their very own sustainable city in Minecraft.
Important:
- This course is designed specifically for ages 7-10 and will be conducted entirely in English.
- Basic reading and writing skills in English are required.
- A laptop is required.
Register now - https://neon.ly/NzAoK
When : 21.01 | 28.01 | 04.02 | 18.02 | 25.02 | 03.03 | 10.03 | 17.03 | 24.03 - from 10h00 to 13h00.
Where: 2 Rue Gerhard Mercator 2182 Luxembourg - PwC Academy
For any additional info / questions please feel free to reach out to us via email: [email protected].
Sunday 21.01.2024
10H00 - 10H00
Content provided by Echo.lu – Content non-binding and subject to change.

To advertise your event (taking place in the capital) in our calendar, register all the information on Echo.lu and display it on our agenda.