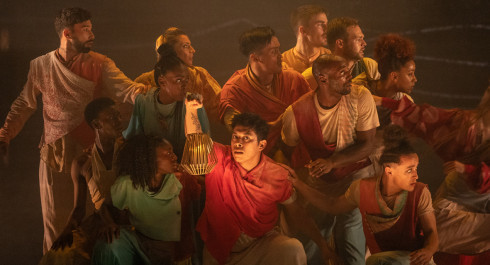 25.01.2024
Message In A Bottle
EN Based on songs and lyrics by 17-time Grammy Award-winning artist Sting, the spectacular dance-theatre production from Sadler's Wells and Universal Music UK returns to Luxembourg after its successful run at the Grand Théâtre in September 2021. Created by triple Olivier Award nominee and choreographic gamechanger Kate Prince, it follows the journey of three siblings who must embark on a perilous journey after their village comes under siege. This uplifting and poignant tale reflects on current global themes such as displacement, immigration and survival, using high-energy footwork, uplifting set pieces and breath-taking athleticism, creating heartfelt entertainment with broad-ranging appeal. The production comprises contemporary and hip hop / street dance styles with breaking, locking and popping and features the astonishing talents of dance storytelling power-house ZooNation: The Kate Prince Company.

FR Le puissant spectacle de danse hip hop Message in a Bottle, mis en scène et chorégraphié par Kate Prince, qui a ouvert avec succès la saison des Théâtres de la Ville en 2021 revient au Grand Théâtre. Message In A Bottle, construit autour de chansons emblématiques comme Every Breath You Take, Roxanne, Englishman In New York, Walking On The Moon, raconte le voyage périlleux que trois frères et sœurs, Leto, Mati et Tana, doivent entreprendre après que leur village a été attaqué. Ce récit poignant, aux sujets intemporels tels que le déplacement et l'immigration, réunit une équipe de talent autour des arrangements musicaux créés par Alex Lacamoire et avec des enregistrements vocaux originaux de Sting, et de la dramaturge Lolita Chakrabarti. Une soirée de grande envergure, portée par la compagnie ZooNation : The Kate Prince Company.

DE Inmitten ausgelassener Feierlichkeiten wird das Dorf Bebko plötzlich belagert, und alles ändert sich unwiderruflich. Entschlossen und mutig gehen die drei Geschwister Leto, Mati und Tana ihre eigenen Wege und erleben auf ihren jeweiligen Reisen außergewöhnliche Abenteuer. Für Message In A Bottle nutzt Kate Prince die unvergesslichen Songs des 17-fachen Grammy-Gewinners Sting. Mit einer Mischung aus aufregenden Tanzstilen, atemberaubender Athletik und Songs wie Every Breath You Take, Roxanne und Walking On The Moon erzählt Message In A Bottle eine bedeutsame und bewegende Geschichte über Menschlichkeit und Hoffnung. Aufgeführt wird das Stück von ZooNation: The Kate Prince Company.
| Date | Hours |
| --- | --- |
| | 20H00 - 22H00 |
| | 20H00 - 22H00 |
| | 15H00 - 17H00 |
| | 20H00 - 22H00 |
| | |
| --- | --- |
| Adultes Cat 1 | 25 € |
| Adultes Cat 2 | 20 € |
| Adultes Cat 3 | 15 € |
| Jeunes | 8 € |
Content provided by Echo.lu – Content non-binding and subject to change.

To advertise your event (taking place in the capital) in our calendar, register all the information on Echo.lu and display it on our agenda.