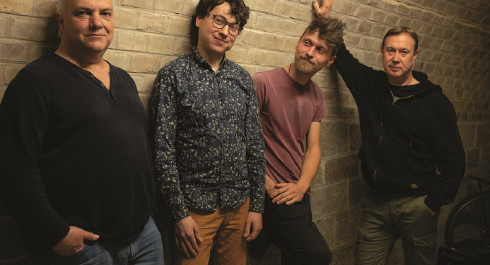 Fédéré autour des compositions du batteur, le groupe est formé de Philippe Canovas à la guitare, complice de longue date, essentiel au panorama sonore de l'orchestre, de Nicolas Gegout aux saxophones et de Julien Moneret à la contrebasse, deux jeunes musiciens talentueux dont l'énergie vitale vient souffler dans les voiles de cette proposition musicale.
Située à la croisée des chemins du jazz tous azimuts, du rock progressif, de la pop et des emprunts à la musique improvisée, la musique de Christian Mariotto est lyrique et poétique. Elle est inexorablement tournée vers la quête d'un chant intérieur, sous-tendu par une énergie brute puisée au creux d'un « palais mental », qui raconte son histoire et cherche à être entendu et partagé avec tous.
Line-Up:
Batterie, composition: Christian Mariotto
Guitare: Philippe Canovas
Saxophone: Nicolas Gegout
Contrebasse: Julien Moneret
Organisateur: neimënster
Durée: 60 minutes
neimënster - Centre Culturel de Rencontre Abbaye de Neumünster
28 rue Münster
L-2160 LUXEMBOURG

Sunday 04.06.2023
11H00 - 12H00
| | |
| --- | --- |
| Ticket tarif normale | 6 € |
| Ticket Kulturpass | 1.5 € |
Content provided by Echo.lu – Content non-binding and subject to change.

To advertise your event (taking place in the capital) in our calendar, register all the information on Echo.lu and display it on our agenda.