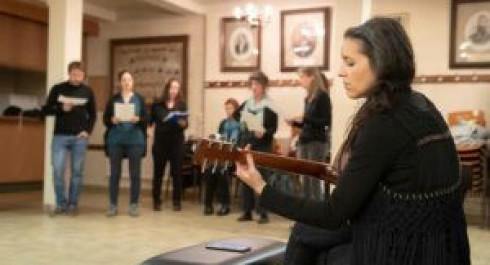 04.06.2023
Melodic Vibrations
Le chœur Melodic Vibrations a été créé en 2019 et est dirigé par Priscila Da Costa, chanteuse de rock, auteure compositrice et Coach Vocal. Ce cours s'adresse à tout le monde qui aime chanter! L'avantage : pour chanter dans ce chœur, les participant.e.s ne nécessitent pas de connaissances musicales particulières. Découvrez les bénéfices psychologiques, physiques, sociales et éducatifs en chantant dans un chœur! Le répertoire couvre les genres du rock et pop comme les chansons Go with the flow (Queens of the Stone Age), Eye of the tiger (Survivor) ou bien These boots are made for walking (Nancy Sinatra).
Sunday 04.06.2023
16H00 - 16H45
Content provided by Echo.lu – Content non-binding and subject to change.

To advertise your event (taking place in the capital) in our calendar, register all the information on Echo.lu and display it on our agenda.