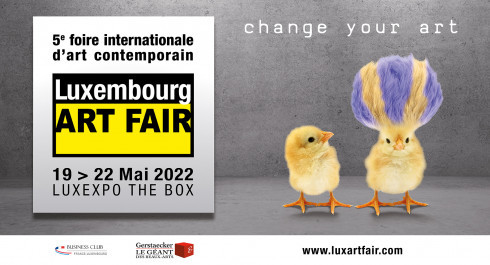 Luxembourg Art Fair ouvre les portes de sa 5ème édition du 19 au 22 mai 2022 et entend bien aller une nouvelle fois à la rencontre du succès.
L'appétit et le goût d'art des Luxembourgeois, l'expertise et la puissance de ses nombreux collectionneurs et la vivacité de son engagement culturel font de LUXEXPO le lieu parfait d'une foire internationale d'art contemporain à la fois qualitative et accessible. Nous saurons à nouveau, cette année, être dignes de la confiance accordée par nos exposants et tous les amateurs d'art en proposant une foire encore plus riche et diversifiée, des conditions d'exposition optimales et une orchestration digne du tissu économique et culturel luxembourgeois.
Le succès de l'édition 2019 marquait les esprits, sa très belle fréquentation, son succès marchand, la haute tenue de son offre artistique, la convivialité et le confort de son accueil se gagnèrent considération et crédibilité auprès de tous, public, exposants et acheteurs.
Avec son offre artistique protéiforme, Luxembourg Art Fair propose une autre vision de l'art contemporain en permettant aux visiteurs de rencontrer les galeries en direct sur un même lieu d'exposition, et partager avec elles leur amour de l'art. Une occasion unique de dénicher de nouveaux talents et de partir à la découverte des stars de demain !
Savant mélange entre l'art abordable et la plus belle représentation du paysage artistique actuel, Luxembourg Art Fair bouge les lignes des traditionnelles foires marchandes d'art contemporain, en redonnant à ces évènements culturels un côté humain et convivial.
Content provided by Echo.lu – Content non-binding and subject to change.

To advertise your event (taking place in the capital) in our calendar, register all the information on Echo.lu and display it on our agenda.