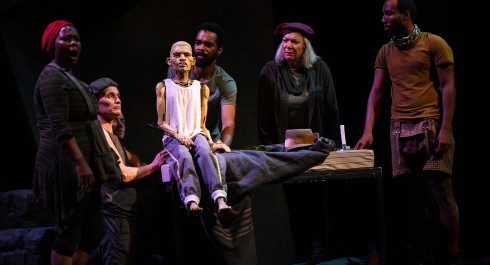 Life & Times of Michael K
Life & Times of Michael K
Michael K. is a man to whom life has not been kind. Born with a harelip, mocked and rejected, he leads a simple life as a gardener. When his mother wants to spend her final days on the distant farm where she grew up, Michael sets off to take her through a country shaken by civil war and finds strength in his own humanity and a profound connection to the earth.
The director is Lara Foot, known for the new South African writing she nurtures at Cape Town's acclaimed Baxter Theatre Centre, and for her own plays on such hard-hitting issues as child rape. This new production, commissioned by Festival Theater der Welt (Düsseldorf) and co-produced by the Théâtres de la Ville, combines puppetry created by award-winning Handspring Puppet Company, vivid cinematic visuals, extraordinary music by Kyle Shepherd and live actors.
Content provided by Echo.lu – Content non-binding and subject to change.

To advertise your event (taking place in the capital) in our calendar, register all the information on Echo.lu and display it on our agenda.