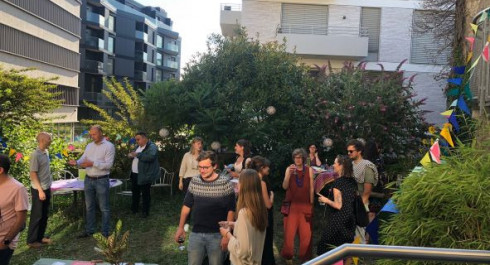 02.06.2023
Les rythmes du jardin
L'ASTM vous invite à venir passer un moment convivial dans son jardin et à découvrir ainsi ses divers projets culturels et de promotion d'une agriculture durable!
Au programme de la soirée:
17.00-22.00 heures: spécialités culinaires africaines et bar
17.00-19.00 heuzres activités et ateliers
-présentation et visite du projet « le buffet de surface » – ASTM/KBL
-atelier « Uro, le jeu de la ville en transition » CELL
-atelier « urban gardening »- CELL
atelier d'initiation au djembé – Mohamed Soumah Anta
atelier « chorale militante »
19.00-22.00 heures:
– 19.00-20.00 heures: concerts du collectif Klang Keller – des musiciennes et musiciens ayant participé au projet Klang Keller de Finkapé présentant leurs créations musicales
21.00 heures: Jadiya Band Mohamed Soumah Anta, musique traditionnelle mandingue acoustiques, Afrique de l'Ouest
Friday 02.06.2023
17H00 - 22H00
Content provided by Echo.lu – Content non-binding and subject to change.

To advertise your event (taking place in the capital) in our calendar, register all the information on Echo.lu and display it on our agenda.