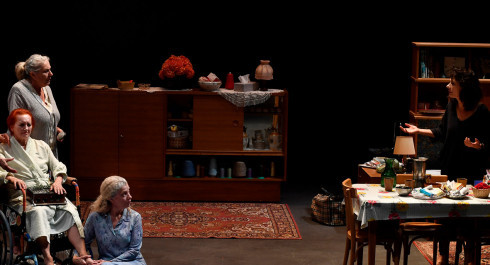 16.11.2023
Les Gardiennes
Nasser Djemaï, auteur, metteur en scène et directeur du Théâtres des Quartiers d'Ivry, près de Paris, livre avec Les Gardiennes une plongée onirique dans la vie des personnes âgées au sein de notre imaginaire collectif.

L'histoire se construit autour de Rose, âgée de 80 ans, dépendante physiquement. Elle ne parle pratiquement plus, elle est prise en charge par toutes les voisines, qui habitent le même immeuble. Son appartement est devenu le cœur battant d'une petite tribu féminine joyeuse, composée de quatre vieilles dames diablement bien organisées pour assurer leur survie. Dans des conditions précaires certes, mais en préservant leur indépendance et leur autonomie.

Quand Victoria, la fille de Rose, annonce qu'elle souhaite placer sa mère dans un EPHAD, pour la voir plus souvent et être rassurée quant à son état de santé, tout en ajoutant vouloir vendre l'appartement, vider les meubles, faire des travaux, ce sont deux visions qui se confrontent.

Les Gardiennes, une tragicomédie sur l'isolement, qui mêle de façon subtile allégorie, conte fantastique et approche documentaire, pose un regard sensible sur ces « gardiennes » qui déploient au quotidien toutes les stratégies pour éviter l'impitoyable modernité qui ne leur fait aucune place.
| Date | Hours |
| --- | --- |
| | 20H00 - 22H00 |
| | 20H00 - 22H00 |
Content provided by Echo.lu – Content non-binding and subject to change.

To advertise your event (taking place in the capital) in our calendar, register all the information on Echo.lu and display it on our agenda.