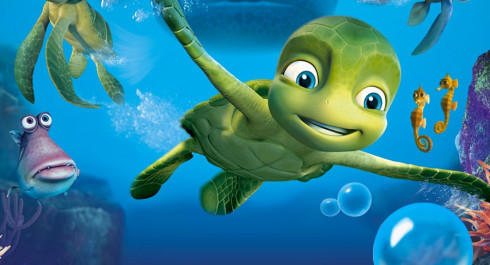 18.06.2023
Le voyage extraordinaire de Samy (Cinema Paradiso)
Le voyage extraordinaire de Samy (Cinema Paradiso)
à partir de 5 ans
Le Voyage extraordinaire de Samy
Sammy's avonturen: De geheime doorgang Belgique 2010 | Film d'animation de Ben Stassen | version française | 85 minutes | avec les voix de : Dany Boon, Olivia Ruiz, Élie Semoun
Samy, petite tortue des mers, trouve et perd dans la foulée l'amour de sa vie : la jeune Shelly. Au cours de son périple à travers les océans, Samy ne cesse de faire face à tous les dangers afin de retrouver Shelly.
« Un adorable spectacle. Tout y est conduit avec grâce et douceur. Quant au message de préservation des océans et de respect de la nature qu'on y tricote entre deux anémones de mer, il y est fort délicatement amené. » (Le Parisien)
« Les plus jeunes craqueront assurément pour l'adorable petite tortue. L'animation, aux couleurs chatoyantes et aux reliefs saisissants est un vrai régal pour les yeux. » (Cineman)
« Dans les profondeurs sous-marines, l'animal imaginé pour ce film connait des aventures riches en émotions. » (JDD)
Sunday 18.06.2023
15H00 - 16H45
| | |
| --- | --- |
| Tarif plein | 3.7 € |
| Tarif réduit | 2.4 € |
| Kulturpass | 1.5 € |
Content provided by Echo.lu – Content non-binding and subject to change.

To advertise your event (taking place in the capital) in our calendar, register all the information on Echo.lu and display it on our agenda.