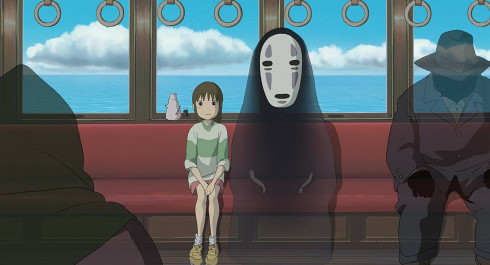 30.09.2023
Le Voyage de Chihiro (Afternoon Adventures)
Le Voyage de Chihiro (Afternoon Adventures)
à partir de 9 ans ► vo japonaise

Afternoon Adventures
Le Voyage de Chihiro
Sen to Chihiro no kamikakushi Japon 2001 | Film d'animation de Hayao Miyazaki | vostFR | 124 minutes | 35mm | Cast : Rumi Hiiragi, Mari Natsuki, Miyu Irino
u Ours d'Or du meilleur film, Berlin 2002 ; Meilleur film d'animation, Oscars 2003
Tout commence dans une voiture, avec à son bord Chihiro, une petite fille de 10 ans, et ses parents. Sur la route vers leur nouvelle maison ils s'arrêtent devant un mystérieux passage qui les conduit dans un parc d'attractions, en apparence abandonné. Aidé d'un jeune garçon, elle cherche un moyen de s'échapper de ce lieu irréel et de sauver sa famille, maudite par un sombre sortilège.
« Dans cette traversée du miroir onirique et romantique signée par Hayao Miyazaki, le réalisateur de Mon Voisin Totoro, l'animation devient un art du dévoilement. » (Le Monde)
« Une fantasmagorie pour l'oeil, pour l'ouïe, pour l'intelligence. » (Positif)
« En matière d'incursion dans un monde étrange, il y a deux références incontournables : Alice au pays des merveilles et Le Magicien d'Oz. Hayao Miyazaki réinvente totalement le genre. En voyageant avec Chihiro, on retrouve l'enfance même, son goût et ses parfums, ses angoisses et ses émerveillements. » (L'Année du cinéma)
Saturday 30.09.2023
16H00 - 18H45
| | |
| --- | --- |
| Tarif plein | 3.7 € |
| Tarif réduit | 2.4 € |
| Kulturpass | 1.5 € |
Content provided by Echo.lu – Content non-binding and subject to change.

To advertise your event (taking place in the capital) in our calendar, register all the information on Echo.lu and display it on our agenda.