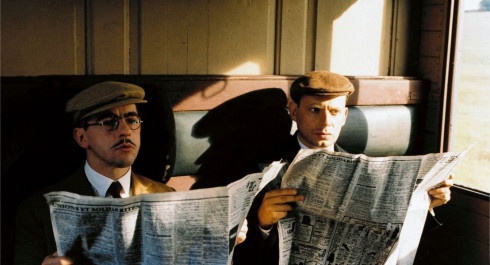 15.06.2023
Le Mystère de la chambre jaune (Kino mat Häerz)
Le Mystère de la chambre jaune (Kino mat Häerz)
Kino mat Häerz … a mat Kaffi !
Le Mystère de la chambre jaune
Comédie policière | France 2003 | Bruno Podalydès | version originale française | 118' | Cast : Denis Podalydès, Jean-Noël Brouté, Claude Rich, Sabine Azéma, Olivier Gourmet, Michael Lonsdale, Pierre Arditi | D'après le roman de Gaston Leroux
Cette première aventure du jeune reporter Rouletabille est un petit bijou d'humour et de fantaisie, interprété avec brio par l'ensemble des comédiens présents sur la scène du crime. Un film policier avec un charme irrésistible pour lequel on prend un plaisir exquis à essayer de deviner l'identité du coupable !
« Le gang des frères Podalydès a encore frappé. En transposant l'illustre roman de Gaston Leroux dans les années 20, ils signent un nouveau petit bijou d'humour et de fantaisie. La transformation réussie du whodunnit le plus célèbre de la littérature française en expérience jubilatoire. » (Film de Culte)
En collaboration avec le Service seniors de la Ville de Luxembourg, Help/Croix-Rouge et la Maison des Associations
Kino mat Häerz : c'est le rendez-vous à ne pas manquer pour passer un après-midi rempli de rires et de rêves. C'est aussi un lieu de souvenirs redonnant vie à des moments uniques de l'histoire du cinéma qui font chaud au ©. L'équipe de Kino mat Häerz vous accueille une fois par mois dans le cadre charmant de la Cinémathèque. Après chaque séance, vous avez la possibilité de participer à une rencontre conviviale « café et gâteau » pour vous permettre d'échanger autour du film projeté et de fixer un rendez-vous pour la prochaine séance !
Afin que les personnes à mobilité réduite puissent également profiter du Kino mat Häerz, les films seront projetés une deuxième fois à la Cinémathèque située à la Cloche d'Or.
Je 15 | 06 à 14h30 (à la Cinémathèque / Place du Théâtre)
Thursday 15.06.2023
14H30 - 16H30
| | |
| --- | --- |
| Formule Film + Kaffi & Kuch | 8 € |
| Film (Tarif plein) | 3.7 € |
| Film (Tarif réduit) | 2.4 € |
| Film (Kulturpass) | 1.5 € |
Content provided by Echo.lu – Content non-binding and subject to change.

To advertise your event (taking place in the capital) in our calendar, register all the information on Echo.lu and display it on our agenda.