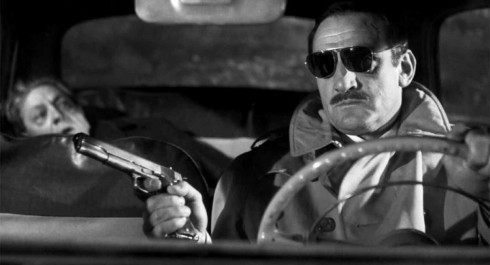 Le Deuxième Souffle (Mafiosi & Mobster Movies)
Le Deuxième Souffle (Mafiosi & Mobster Movies)
Le Deuxième souffle

France 1966 | vo | 150' | c | De : Jean-Pierre Melville | Avec : Lino Ventura, Paul Meurisse, Raymond Pellegrin | D'après : le roman de José Giovanni
Gustave Minda, ennemi public n°1, s'évade de prison et rejoint sa compagne Manouche. Inexorablement, il se retrouve mêlé à des « coups » et des rivalités de gangs...
« L'un des plus beaux films de l'homme au stetson, qui fusionne sans cesse la précision d'un Bresson et sa vision fantasmée du film noir américain. » (Les Inrockuptibles)
« Melville joue sur l'attente et le vide, le silence et la peur. Chaque geste prend une force inouïe. Il n'est question que de dignité chez Melville, signe véritable de grandeur de l'être humain. Plus le monde qu'il décrit est ténébreux, plus la noblesse de l'homme y brille. Désespérément. » (Télérama)
« Fatalité du destin, silence des personnages, rites, fétichisme vestimentaire, mélancolie, un sommet de l'œuvre de Melville. » (Institut Lumière)
Content provided by Echo.lu – Content non-binding and subject to change.

To advertise your event (taking place in the capital) in our calendar, register all the information on Echo.lu and display it on our agenda.