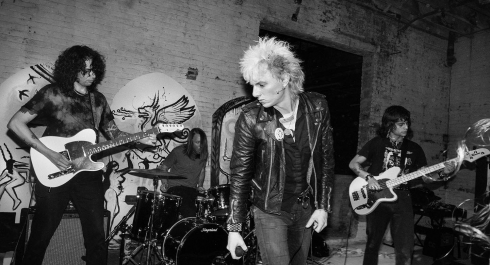 18.02.2024
Lathe of Heaven
Formed in 2021, Brooklyn based Lathe of Heaven delivers a powerful take on Post-Punk and New-Wave, pushing the boundaries of both genres into an untouched realm of sonic abstraction.

With melodic riffs, urgent rhythms and Science Fiction themed lyrics, LoH carefully position themselves in the no-mans-land that exists between beauty and dissonance, offering a unique sound as reminiscent of Finnish Post-Punkers Musta Paraati as they are to pop-pioneers A Flock of Seagulls. Though Lathe of Heaven features members of many noteworthy Brooklyn based projects including People's Temple, Porvenir Oscuro, Pawns, Android, Hustler and more, this roster of past and alternate musical endeavors exposes a diverse range of genre and skill sets which can only be understood as a departure from such influences, exploring a sound entirely of its own.


For fans of:
DIIV, Holograms, Soft Kill
Genres: Post-punk & New wave
Location: Klub
Price: 12€ (1€ presale fees incl.) / 15€ (doors)
Label: US, Sacred Bones
Programme: >20:00 Doors >20:30 Show
Links:
Sunday 18.02.2024
20H30 - 20H30
Content provided by Echo.lu – Content non-binding and subject to change.

To advertise your event (taking place in the capital) in our calendar, register all the information on Echo.lu and display it on our agenda.