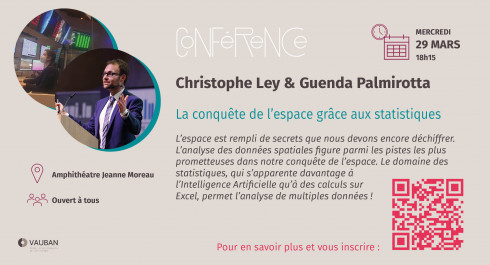 La conquête de l'espace grâce aux statistiques !
La conquête de l'espace grâce aux statistiques !
INSCRIPTION ICI : https://forms.office.com/e/3T8dc20ksV
Notre espace est rempli de mystères et secrets que nous devons encore découvrir et déchiffrer.
L'analyse de données spatiales figure parmi les pistes les plus prometteuses dans notre conquête de l'espace. Mais comment s'y prendre? Les statistiques appliquées permettent d'analyser les multiples données spatiales dont nous disposons de nos jours. Contrairement à ce qu'on pourrait être amené à penser, le domaine des statistiques appliquées s'apparente davantage à l'Intelligence Artificielle qu'à des calculs stériles sur des tableurs Excel. Pendant votre conférence, on vous donnera un aperçu des possibilités et défis.
Lieu: Amphithéâtre Jeanne Moreau à Vauban (1-3 rue Albert Einstein L1484 Luxembourg)
Date et horaires: Mercredi 29 mars à 18h15 (ouverture des portes à 17h55)
Durée de la conférence : 1h
Public : conférence ouverte à tous
Accès et stationnement : par l'accueil principal (1) - bâtiment collège/lycée - le parking visiteur est mis à votre disposition (nombre de places limité) https://www.vauban.lu/wp-content/uploads/2021/09/2021-plan_campus_general.jpg
Conférence organisée dans le cadre du projet "Sciences, ça tourne !" en partenariat avec l'UNIVERSEH, l'Institut français de Luxembourg, sous le haut patronage de l'Ambassade de France au Luxembourg.
Content provided by Echo.lu – Content non-binding and subject to change.

To advertise your event (taking place in the capital) in our calendar, register all the information on Echo.lu and display it on our agenda.