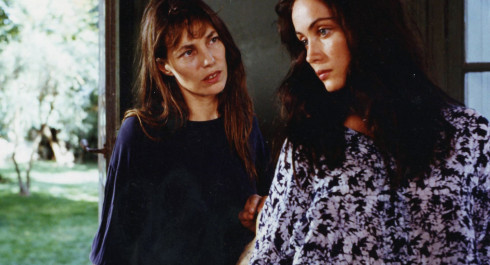 12.12.2023
La Belle Noiseuse (Jane est Jane, Forever)
La Belle Noiseuse (Jane est Jane, Forever)
La Belle Noiseuse
France-Suisse 1991 | Jacques Rivette | vo | 239' | 35mm | Cast : Jane Birkin, Emmanuelle Béart, Michel Piccoli
> Grand Prix du jury, Cannes 1991
> Meilleure actrice dans un second rôle (Birkin), acteur (Piccoli), actrice (Béart), réalisateur et film, Césars 1992
Un peintre vieillissant, Frenhofer, est rongé par l'abandon, il y a dix ans, d'un grand tableau qui devait être son chef-d'œuvre et dont sa femme était le modèle. L'arrivée d'un jeune couple va lui permettre de reprendre cette œuvre et c'est la jeune femme, qui cette fois, lui sert de modèle. Pendant les cinq journées de pose, la tension va monter entre les différents protagonistes.
« Une expérience cinématographique sans précédent, délicieuse, saisissante et prodigieuse, grâce à laquelle Rivette nous plonge dans l'univers intime d'un artiste, pour nous montrer ce qui est en jeu lors du processus de création : trouver la vérité de l'être. » (àVoir-àLire.com)
« Un extraordinaire affrontement entre le peintre, que son ami, sorte de Méphisto, a poussé à l'acte jusqu'alors refusé, et le modèle entièrement nu, reprenant le rôle qui fut, autrefois, celui de l'épouse. Marianne est manipulée, humiliée, transformée en victime expiatoire, mais, en même temps, elle exerce un pouvoir quasi magique. Un rite de possession – qui finit par atteindre les autres protagonistes – permet à Frenhofer de traverser les apparences, tout au long d'un suspense haletant. Il n'y a, dans la mise en scène de Rivette, aucun artifice, aucun piège, aucun effet de manche. Il y a quelque chose de sublime dans ce film et dans ses interprètes. » (Télérama)
Tuesday 12.12.2023
18H30 - 22H30
| | |
| --- | --- |
| Tarif plein | 3.7 € |
| Tarif réduit | 2.4 € |
| Kulturpass | 1.5 € |
Content provided by Echo.lu – Content non-binding and subject to change.

To advertise your event (taking place in the capital) in our calendar, register all the information on Echo.lu and display it on our agenda.