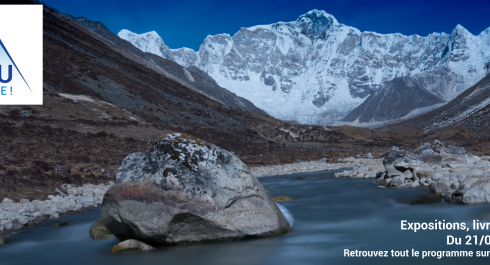 L'EAU c'est la vie !
Du 21 avril au 21 juin 2022
Expositions
Mont-Blanc Nature, par Mario Colonel, photographe, Place de Strasbourg, Luxembourg
Le Troisième Pôle, par Mario Colonel, Galerie pop up, Cloche d'Or Shopping Center, Luxembourg
« Ce qui m'importe c'est d'aller toucher l'horizon. Être en haut pour voir ce qu'il y a de l'autre côté, et découvrir une autre crête à gravir encore plus haute. Mon travail de photographe, c'est d'offrir aux autres le prochain horizon… »
Le photographe et alpiniste Mario Colonel présente place de Strasbourg des photos du massif du Mont-Blanc d'une part, et à Cloche d'or des photos du Troisième Pôle, dont les 14 sommets de plus de 8000 mètres, situés dans huit pays.
Mario Colonel est considéré comme l'un des meilleurs photographes de montagne actuel.
Passionné d'altitude, il partage son temps et sa passion entre les Alpes et l'Himalaya. Il expose ses photos en particulier dans sa galerie à Chamonix. Il a publié plus d'une vingtaine de livres sur la montagne, récompensés de plusieurs prix internationaux, dont « Mont-Blanc Nature, de la Vallée de Chamonix aux sommets », et un ouvrage sur les treks dans l'Himalaya.
Livres
Mont-Blanc Nature, de Mario Colonel
Treks en Himalayas, photos de Mario Colonel
Le Troisième Pôle, textes et interviews de Marion Chaygneaud Dupuy, photos de Mario Colonel, Olivier Follmi et Jed Weingarten (à paraître)
Conférences
Conférences de Marion Chaygneaud Dupuy : présentation de son livre : Respire, tu es vivante
Conférence de Mario Colonel et projection de son documentaire Dolma
Cycle de conférence : L'eau un bien commun à préserver, du 8 au 18 juin, avec notamment Wolfgang Cramer de l'Institut méditerranéen sur la biodiversité et d'écologie marine, et Veruchka Muccione, glaciologue et climatologue
Plus d'informations à venir !
L'EAU c'est la Vie ! est un projet pluridisciplinaire organisé par l'Institut français du Luxembourg et l'Ambassade de France au Luxembourg.
Avec le soutien de Cloche d'Or Shopping Center et de l'Association Victor Hugo.
En partenariat avec la Ville de Luxembourg, le Ministère de l'Environnement, du Climat et du Développement durable et l'Administration de la gestion de l'eau
Plus d'information : https://www.institut-francais-luxembourg.lu/2022/04/13/leau-cest-la-vie/
From Thursday 21.04.2022 to Tuesday 21.06.2022
Content provided by Echo.lu – Content non-binding and subject to change.

To advertise your event (taking place in the capital) in our calendar, register all the information on Echo.lu and display it on our agenda.