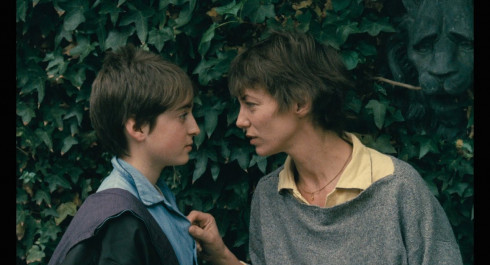 14.12.2023
Kung-Fu Master (Jane est Jane, Forever)
Kung-Fu Master (Jane est Jane, Forever)
Kung-Fu Master !
France 1988 | Agnès Varda | vostEN | 80' | 35mm | Cast : Jane Birkin, Charlotte Gainsbourg, Mathieu Demy
> Compétition, Berlinale 1988
Une femme de presque 40 ans tombe amoureuse d'un garçon de presque 15 ans, camarade de classe de sa fille. Lui, il essaie de faire partager sa passion pour les jeux vidéo, surtout pour Kung-Fu Master. Au retour d'une escapade dans une île, tout sera remis en ordre par les familles et les proviseurs...
« Un film émouvant et trop méconnu qui résume à lui seul toutes les qualités du cinéma de Varda qu'on trouvait déjà dans Cléo de 5 à 7 : une histoire qui s'attaque à un tabou, un contexte sociologique et historique, une vision documentaire et poétique de Paris et un portrait de femme qui mélange la fiction et la réalité. » (Olivier Père)
« The subject is disturbing, and yet Varda treats it with a rare sympathy and empathy. The movie was co-written by Birkin, an English actress who has lived in Paris for years, and who plays a woman who falls in love with the innocence and honesty of this young man. » (Roger Ebert)
Thursday 14.12.2023
18H30 - 20H00
| | |
| --- | --- |
| Tarif plein | 3.7 € |
| Tarif réduit | 2.4 € |
| Kulturpass | 1.5 € |
Content provided by Echo.lu – Content non-binding and subject to change.

To advertise your event (taking place in the capital) in our calendar, register all the information on Echo.lu and display it on our agenda.