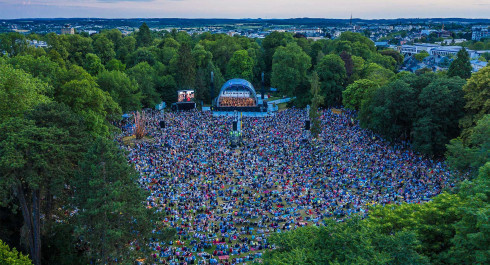 30.06.2023
Stewart Copeland @ Kinnekswiss loves...
Stewart Copeland @ Kinnekswiss loves...
Vendredi, 30 juin 2023

La tête d'affiche de l'édition 2023 constitue sans nul doute Stewart Copeland, célèbre batteur et fondateur du groupe The Police, qui se produira dès 21h dans la cadre sa tournée « The Police Deranged For Orchestra » sur l'imposante scène implantée sur la Kinnekswiss. Les visiteurs deviendront ainsi témoin d'une performance musicale inédite dans le cadre verdoyant du parc municipal lors de laquelle seront revisités les classiques de The Police avec l'accompagnement musical de l'Orchestre de Chambre du Luxembourg et de la Musique Militaire Grand-Ducale.
Stewart Copeland's Police Deranged for Orchestra is a high energy orchestral evening celebrating the work of legendary rock star and composer, Stewart Copeland and focuses on the epic rise of his career in music that has spanned over four decades.
Copeland is a unique figure in world music: renowned as the founder of The Police, a band that became a defining force in rock music from the ​'80s through to the present day; he is also a seasoned and prolific composer in opera, ballet and orchestral music.
This concert will be an evening bursting with The Police's biggest hits including ​'Roxanne', ​'Don't Stand To Close To Me' and ​'Message in a Bottle'. With Copeland on drums, three singers, and a guest guitarist, [conductor] leads the [orchestra] in this unique concert experience.
Vendredi, 30 juin 2023 : à partir de 21h
Samedi, 1er juillet 2023 : à partir de 21h
Dimanche, 2 juillet 2023 : de 11h à 17h - Concert à partir de 19h30
Veuillez trouver toutes les informations actuelles ici : https://www.vdl.lu/fr/visiter/loisirs-et-divertissement/fetes-foires-et-evenements/summer-der-stad/kinnekswiss-loves
Friday 30.06.2023
21H00 - 23H00
Content provided by Echo.lu – Content non-binding and subject to change.

To advertise your event (taking place in the capital) in our calendar, register all the information on Echo.lu and display it on our agenda.