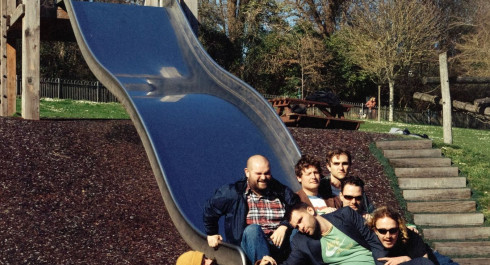 Support: Odds Ratio

Erupting from a frenzied passion for the 'song', Keg toe a fine line between the angular throb of contemporary post-rock sensibilities and a timeless necessity for harmony and meticulous songwriting. You can hear this push-pull woven into each of their compositions.

Following their debut EP Assembly – deemed "a glorious success" by NME – Keg have announced the release of another EP, Girders, set for September 2, 2022. "It wasn't our intention to make something consistently unrelenting and abrasive," they explain, "it just ends up sounding that way."

Whether it's the death of a loved one, the feeling of not really knowing yourself, your body slowly crumbling around your brain or a mass cull, sonically and lyrically Girders pushes and pulls the listener into peaks and troughs all the way through. Let's see how it plays out on stage!


For fans of:
Crack Cloud, Idles, Preoccupations
After being active in several local acts, all rooted in indie music, the three members of Odds Ratio now create music reminiscent of the electric discharge of the Washington, D.C. post-hardcore movement (think Engine Down) and the propulsive swagger of San Diego punks Hot Snakes. Their sound is in a constant state of flux, backed by propulsive drums, Fugazi-esque basslines and a tapestry of stereo guitars.
Genre: Post-punk
Location: Klub
Price: Presale: 12€ + 1€ (fees) Doors: 14€
Label: UK, Alcopop + LU
Links:
Content provided by Echo.lu – Content non-binding and subject to change.

To advertise your event (taking place in the capital) in our calendar, register all the information on Echo.lu and display it on our agenda.