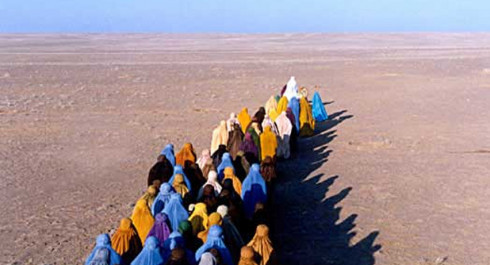 14.07.2023
Kandahar (Faces of Iran)
Kandahar
Safar-e Ghandehar Iran 2000 | Mohsen Makhmalbaf | vo dari, pashto et anglais stFR | 85' | 35mm | Cast : Nelofer Pazira, Hassan Tantai
► Prix œcuménique, Cannes 2001
► Suivi par une séance de The House is Black (voir p. 13)
Nafas, une jeune journaliste qui a fui l'Afghanistan pour grandir au Canada, revient incognito pour sauver sa petite sœur.
« Un puzzle de situations qui, toutes, renvoient à la même question obsédante : que reste-t-il de la dignité des hommes quand on leur a tout pris ? Makhmalbaf a le tact de donner une réponse non militante, mais juste humaine. » (Télérama)
« Epuré et bouleversant, Kandahar raconte sans fausse pudeur l'enfermement de tout un pays, de tout un peuple. Sans aucun doute, l'un des plus beaux films de Mohsen Makhmalbaf, mais aussi l'un des plus douloureux. » (MCinéma)
« Kandahar reste un immense cri de douleur d'un peuple à qui on a volé la liberté, une voie ouverte vers la reconnaissance et la beauté d'une culture. » (Cine Libre)
« Watching this film wakes you up; it is a window on an Iran and an Afghanistan we should have taken account of long ago – seen though a master's eye, felt through a poet's touch. » (Chicago Tribune)
Friday 14.07.2023
18H30 - 20H00
| | |
| --- | --- |
| Tarif plein | 3.7 € |
| Tarif réduit | 2.4 € |
| Kulturpass | 1.5 € |
Content provided by Echo.lu – Content non-binding and subject to change.

To advertise your event (taking place in the capital) in our calendar, register all the information on Echo.lu and display it on our agenda.