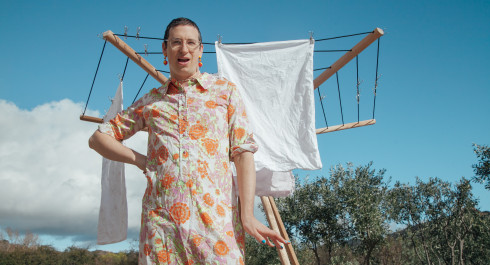 Support: ENGLBRT

Jerry Paper is Lucas Nathan. Jerry Paper is instant coffee, bullshit jobs, weekly therapy sessions, crises of conscience, corporate mascots, 5-MeO-DMT trips, jokers down on their luck, surveillance, a jacked dad high on meth at a child's party, apologies, trash cans, cacti, and the magic of words.

From its initial days as a DIY solo synth project in the early 2010s to its current incarnation as a five-piece band, Jerry Paper has always been the earthly conduit for the wild and uncanny imagination of its creative mastermind.


For fans of:
Conan Mockassin, Dan Deacon
The indietronica duo ENGLBRT is the unexpected union between singer/songwriter Georges Goerens and drummer/composer Niels Engel. From influences ranging from electronic to contemporary jazz and well-crafted indie pop, they create their very own musical symbiosis reminiscent of Radiohead, Jordan Rakei, Yussef Dayes and Tom Misch. Densely layered synth pads and finger-picked guitars combine with driving rhythms to provide a sparkling mosaic backdrop for their silky smooth and catchy melodies.
Genres: Indie, Pop & Lo-fi
Location: Klub
Price: Presale: 12€ + 1€ (fees) Doors: 15€
Label: US, Stones Thow + LU
Programme: Doors >20:00 Show >20:30
Links:
Content provided by Echo.lu – Content non-binding and subject to change.

To advertise your event (taking place in the capital) in our calendar, register all the information on Echo.lu and display it on our agenda.