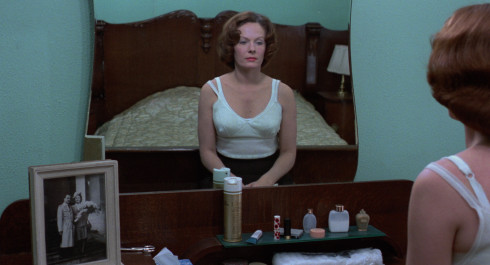 Jeanne Dielman 23, quai du commerce 1080 Bruxelles (Why We Love Cinema)
Jeanne Dielman 23, quai du commerce 1080 Bruxelles (Why We Love Cinema)
Jeanne Dielman, 23, quai du Commerce, 1080 Bruxelles
Belgique-France 1975 | vostang | 202' | c | De : Chantal Akerman | Avec : Delphine Seyrig, Jan Decorte, Henri Storck
Une cinquantaine d'heures du quotidien d'une femme à Bruxelles, dont la vie s'organise comme un ballet apparemment rigide de gestes domestiques.
« Imprégnée du cinéma expérimental américain qu'elle a découvert quelques années auparavant et influencée par l'hyperréalisme, Akerman fait de son long métrage un essai hypnotique, la peinture d'une routine féminine dans une expression assez universelle tout en jouant de cette illusion de réalité. » (Filmdeculte.com)
« L'œuvre va bien au-delà du féminisme : plus que dénoncer une certaine condition de la femme, Jeanne Dielman se veut bien plus universel et dénonce la condition humaine. Cette dualité, absolument complémentaire, se retrouvant parfaitement cristallisée dans la fin. » (Sens Critique)
« Akerman's unwavering and completely luminous adherence to a female perspective (not, that is, via the titular protagonist, but embedded in the film itself and its director's vision) combined with her uncompromising and completely coherent cinema to produce a film that was both feminist and cinematically radical. One might say that it felt as though there was a before and an after Jeanne Dielman, just as there had once been a before and after Citizen Kane. » (Sight & Sound)
« Un film sur l'espace et le temps et sur la façon d'organiser sa vie pour n'avoir aucun temps libre, pour ne pas se laisser submerger par l'angoisse et l'obsession de la mort. »
(Akerman à propos de 'Jeanne Dielman')
Content provided by Echo.lu – Content non-binding and subject to change.

To advertise your event (taking place in the capital) in our calendar, register all the information on Echo.lu and display it on our agenda.