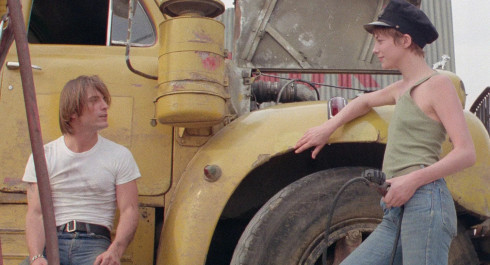 15.12.2023
Je t'aime moi non plus (Jane est Jane, Forever)
Je t'aime moi non plus (Jane est Jane, Forever)
Je t'aime moi non plus
I Love You, I Don't France 1976 | Serge Gainsbourg | vostEN | 88' | 35mm | Cast : Jane Birkin, Joe Dallesandro
> Meilleure musique (Gainsbourg) et son, Césars 1977
> Interdit aux moins de 16 ans
Dans ce western intimiste et sulfureux, deux garçons en couple parcourent une route déserte à bord de leur camion lorsqu'ils tombent sur un snack-bar isolé, où Johnny, une jeune Anglaise à l'allure de garçon manqué, travaille comme serveuse. Le quotidien ennuyeux et triste de la jeune femme vole en éclats lorsque l'un des garçons pose ses yeux sur elle pour la première fois ...
« Ce film m'a scotché du début à la fin, car il est d'une intensité très forte – la tension érotique brute entre le trio d'acteurs ; la violence des scènes de jalousie ; l'atmosphère glauque et en même temps hypnotisante du cadre arriéré dans lequel évoluent les personnages ; et les acteurs magnétiques. » (François Truffaut)
« The real highlight, along with the refreshingly frank queerness of the narrative, is an androgynous waitress played by the beautiful Jane Birkin in yet another of her underrated performances from the period. » (ioncinema.com)
Friday 15.12.2023
20H30 - 22H00
| | |
| --- | --- |
| Tarif plein | 3.7 € |
| Tarif réduit | 2.4 € |
| Kulturpass | 1.5 € |
Content provided by Echo.lu – Content non-binding and subject to change.

To advertise your event (taking place in the capital) in our calendar, register all the information on Echo.lu and display it on our agenda.