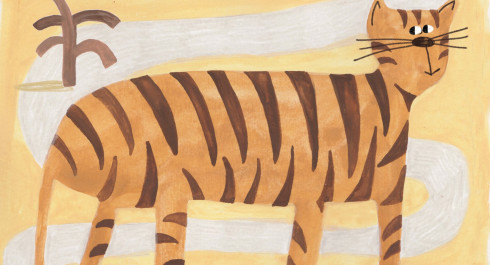 Elle est « d'ici », lui d'un « là-bas » qu'il a dû fuir. Une belle histoire d'amitié et de découverte de l'autre, dansée et dessinée à hauteur d'enfant. Hichem et Marie, inséparables, partagent leurs secrets en jouant dans la cour de l'école. Pas facile de raconter une histoire hors du commun pour Hichem. Pas facile pour Marie de recoller les bribes de ce que disent les mots étranges des grandes personnes - exil, réfugiés, guerre - à ce qu'a vécu son ami. Rien d'explicite, de didactique, dans leur échange dansé et acrobatique. Une immense fresque se dessine en live, donnant les clés du passé d'Hichem, le « tigre », solitaire et résilient, qui a parcouru des milliers de kilomètres pour découvrir la paix. Et l'amitié de Marie. Je suis Tigrebalaie les a priori et invite à la tolérance. Il rappelle que, plus qu'un devoir moral, l'accueil et le partage sont aussi sources de grande richesse et de joie.
Line-Up:
Chorégraphe, metteure en scène : Florence Bernad
Autrice : Aurélie Namur
Illustratrice : Anaïs Massini
Assistante chorégraphie : Gypsy David
Compositeur :Nantho Valentine
Lumière : Nicolas Buisson
Vidéaste : Quentin Grélé
Interprètes : Mohamed Nahhas et Maria Pinho
6-99 ans
durée : 40'
Sans paroles
Sunday 10.12.2023
16H00 - 16H45
| | |
| --- | --- |
| Ticket tarif normale | 12 € |
| Ticket tarif réduit | 6 € |
| Ticket Kulturpass | 1.5 € |
Content provided by Echo.lu – Content non-binding and subject to change.

To advertise your event (taking place in the capital) in our calendar, register all the information on Echo.lu and display it on our agenda.