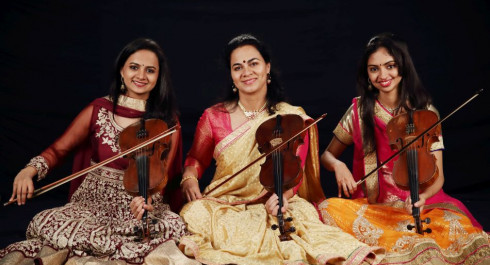 Jalsa Résonances indiennes
Jalsa Résonances indiennes
The cultural diversity and creativity of India, this country-continent of a thousand faces, is reflected in its myriad of artistic expressions. The JALSA festival proposes to discover some of its greatest musical traditions by giving a place of choice to Indian artists of the new generation. It also showcases collaborative projects between these performers and musicians based in Europe. The term "JALSA" means the gathering and the joy of reunion: it is here the creativity born from the confrontation and the dialogue between several artistic universes and sensibilities that will be celebrated. Sometimes introspective and poetic, sometimes luminous and virtuoso, these musical encounters are an invitation to travel.
Line-Up:
"Sangeeta Shankar & daughters"
Violon: Sangeeta, Ragini et Nandini Shankar
Tabla: Aman Ali
"Queens of Melody"
Chant, saz et vielle à roue: Eléonore Fourniau
Violon: Nandini Shankar
Tabla: Amaan Ali
Main organiser(s): KALASETU - France India Music Connection
neimënster - Centre Culturel de Rencontre Abbaye de Neumünster
28 rue Münster
L-2160 LUXEMBOURG

Friday 08.07.2022
20H00 - 22H00
| | |
| --- | --- |
| Ticket tarif normale | 22 € |
| Ticket tarif réduit | 9 € |
| Ticket Kulturpass | 1.5 € |
Content provided by Echo.lu – Content non-binding and subject to change.

To advertise your event (taking place in the capital) in our calendar, register all the information on Echo.lu and display it on our agenda.