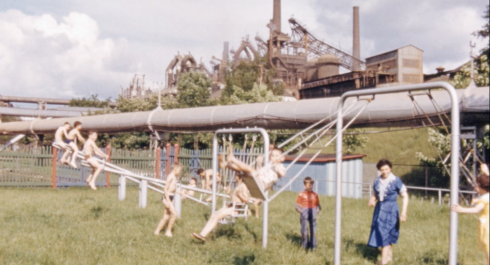 Industrial Luxembourg (Séance spéciale)
Industrial Luxembourg (Séance spéciale)
Industrial Luxembourg
Introduction à la séance par Isis Luxenburger (Université de la Sarre)
La série de projection « Cinédentité » aura lieu dans la Grande Région et comprendra une soirée de cinéma individuelle à Luxembourg, Liège, Metz et Sarrebruck. Le projet met en valeur les films industriels de la grande région et vise à les rendre plus accessibles au grand public.
Cette sélection de court-métrages démontre la variété des industries luxembourgeoises ainsi que le quotidien des travailleurs et des habitants du Luxembourg – la culture industrielle du pays.
Programme :
L'Aventure industrielle du Luxembourg
Luxembourg 1967 | version originale (française) | 15' | De : Philippe Schneider
Le film fait l'inventaire des différentes industries existant au Luxembourg en 1967 : la sidérurgie, les marbres, le carrelage, le ciment, la faïencerie contribuent à l'essor économique du pays. Le film montre par ailleurs l'industrie luxembourgeoise de la cigarette, du caoutchouc, sans oublier l'aéroport, les brasseries et la viticulture.
Esch-sur-Alzette
Luxembourg | film muet | 14' | De : Tony Krier
Après une visite d'une mine à ciel ouvert et une mine souterraine, le film suit le minerai de fer dans l'aciérie d'Esch-sur-Alzette. Les prises de vue, qui se focalisent sur la fonte d'acier, sa luminosité et les étincelles, transmettent la chaleur de ce lieu de travail dans la salle de cinéma. Encadré d'impressions de la ville, le film démontre l'omniprésence de l'industrie métallurgique dans la vie quotidienne de ses habitants.
Ardoises
Luxembourg 1938 | version originale (française) | 13' | De : René Leclère
Deux jeunes filles admirent les ardoises utilisées par un couvreur et se demandent d'où elles viennent. Le film retrace le chemin des ardoises d'une mine à Haut-Martelange par les différentes étapes de production. Les travails dans la mine et dans les différents ateliers sont montrés et expliqué en détail. L'habilité artisanale nécessaire des travailleurs est souligné et mise en valeur.
Content provided by Echo.lu – Content non-binding and subject to change.

To advertise your event (taking place in the capital) in our calendar, register all the information on Echo.lu and display it on our agenda.