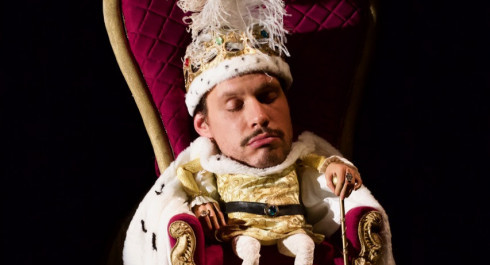 15.12.2023
Le Petit Prince
Le Petit Prince vient d'une planète à peine plus grande que lui sur laquelle il y a des baobabs et une fleur très précieuse, une rose, qui fait sa coquette et dont il se sent responsable. Le Petit Prince aime le coucher de soleil. Un jour, il l'a vu quarante-quatre fois!
Le Petit Prince a aussi visité d'autres planètes et rencontré des gens très importants mais qui ne savaient pas répondre à ses questions. Sur la terre, il a apprivoisé le renard, qui est devenu son ami. Et surtout, il a rencontré l'aviateur, échoué en plein désert du Sahara. Alors, il lui a demandé : «S'il vous plaît… dessine-moi un mouton!»
Très surpris par cette apparition miraculeuse, le pilote obéit, mais aucun de ses moutons ne convient au petit prince. Excédé, il dessine la caisse du mouton : «Ça, c'est la caisse. Le mouton que tu veux est dedans». Le Petit Prince s'en montre cette fois-ci satisfait et remarque que le mouton «s'est endormi». Peu à peu une confiance réciproque s'installe, et pour l'aviateur s'ouvre une porte sur le monde fascinant du Petit Prince...
Le 29 juin 1900, Antoine de Saint-Exupéry voyait le jour à Lyon. 43 ans plus tard, il publiait à New York son conte philosophique Le Petit Prince. Tendre et universel, cet ouvrage va connaître un succès mondial au fil des années, à tel point qu'il est actuellement le deuxième ouvrage le plus traduit dans le monde, après la Bible. François Camus a adapté le texte pour la scène et a réussi à façonner un véritable petit bijou théâtral, destiné aussi bien aux enfants qu'aux «grandes personnes».
| Date | Hours |
| --- | --- |
| | 10H00 - 11H00 |
| | 17H00 - 18H00 |
| | 17H00 - 18H00 |
| | |
| --- | --- |
| adultes | 25 € |
| jeunes | 8 € |
| Kulturpass | 1.5 € |
Content provided by Echo.lu – Content non-binding and subject to change.

To advertise your event (taking place in the capital) in our calendar, register all the information on Echo.lu and display it on our agenda.