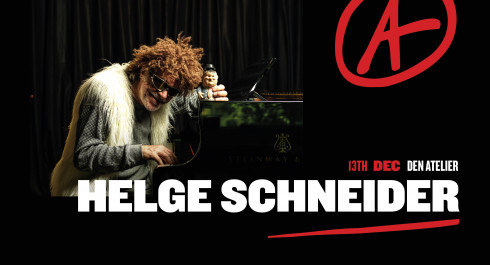 13.12.2023
HELGE SCHNEIDER
HELGE präsentiert sich erstmals als Torero, obwohl er sich beim Anblick eines Stieres umgehend verdünnisieren würde, wie er uns glaubhaft versicherte. Aber die Arbeitsbekleidung des Toreros gefiel ihm so gut, dass er sie, nachdem er sie einmal in einem Fachgeschäft anprobiert hatte, nicht mehr ausziehen wollte. Und so kam es zu den Portraitfotos, eines davon wurde zu seinem neuesten Tourneeplakat und auch zum Cover seiner neuesten Schallplatte, die pünktlich zum Tourneestart im Februar 2023 erscheint! Mit seiner neuesten Show "DER LETZTE TORERO - BIG L.A. SHOW" singt, tanzt, trommelt, trompetet, spielt Klavier, Saxophon, xylophoniert sich HELGE in die Herzen der vielen Menschen, die da kommen sollten eventuell.
Wednesday 13.12.2023
19H00 - 19H00
Content provided by Echo.lu – Content non-binding and subject to change.

To advertise your event (taking place in the capital) in our calendar, register all the information on Echo.lu and display it on our agenda.