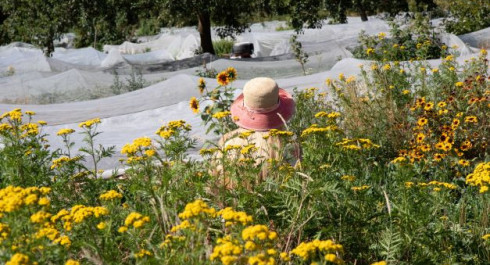 03.06.2023
Hannah Ida @ Terra
Dans le cadre du projet "Rendez-vous aux jardins", qui fait partie de l'initiative "Heritage in Nature – HEREIN" la jeune artiste Hannah Ida et la coopérative agricole TERRA vont organiser une soirée de concert qui aura lieu sur l'exploitation agricole de TERRA.
La musicienne présentera son programme musical au sein du jardin de la coopérative et créera ainsi la possibilité pour le public de découvrir son art musical au sein d'un des secteurs les plus essentiels : l'exploitation agricole. Les spectateurs seront invités à écouter à la fois les sons de la musique et les sons de la nature qui les entourent.
Au-delà de cette rencontre artistique, le public aura la possibilité de découvrir le concept de l'AMAP et leur façon de travailler le sol en douceur.
« Hannah Ida's raw voice accompanied by guitar, ukulele or pocket piano, englobes beautifully melancholic songs full of meaning and intimate sensibility. For Hannah Ida, sharing the music she creates, is like a secret valuable and precious conversation. Her warm and melancholic songs flawlessly reflect her authentic and independent spirit, seeking for adventure and experience. »
Saturday 03.06.2023
18H00 - 19H00
Content provided by Echo.lu – Content non-binding and subject to change.

To advertise your event (taking place in the capital) in our calendar, register all the information on Echo.lu and display it on our agenda.