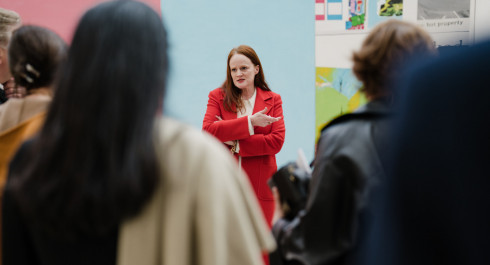 21.06.2023
Guided tour with director Bettina Steinbrügge
Guided tour with director Bettina Steinbrügge
In der kurzen Dauer seiner außerordentlich produktiven Karriere gelang es Michel Majerus (1967, Esch-sur-Alzette - 2002, Niederanven), den Geist seiner Zeit, jener durch einen sich global ausbreitenden Konsum und von einer zunehmend digitaler Technologie geprägten Jahrzehnte zu erfassen. Seine großformatigen Gemälde und Installationen zeichnen sich durch ein collageartiges Sampling von Versatzstücken aus, die er aus einem äußerst heterogenen Fundus von Bildern und Texten aus der Kunstgeschichte, von Videospielen, aus der Werbung oder der elektronischen Musik schöpft und mit dem er auf den verrückten Hunger nach Bildern und Informationen in der Zeit des die Gesellschaft durchdringenden noch jungen Internets antwortet. In seiner Arbeit überschritt Majerus die gewohnten Regeln der Malerei und schuf unverwechselbare Interpretationen der Popkultur der 90er und der frühen 2000er Jahre, deren Relevanz bis heute nicht nachgelassen hat.
Erleben Sie diese Ausstellung durch den Blick der Direktorin des Mudam, Bettina Steinbrügge.
Auf Deutsch
Kostenlos Telinahmen
Anmeldung:
mudam.com/visites-curateurs
t + 352 453785–431
Wednesday 21.06.2023
18H00 - 19H00
Content provided by Echo.lu – Content non-binding and subject to change.

To advertise your event (taking place in the capital) in our calendar, register all the information on Echo.lu and display it on our agenda.