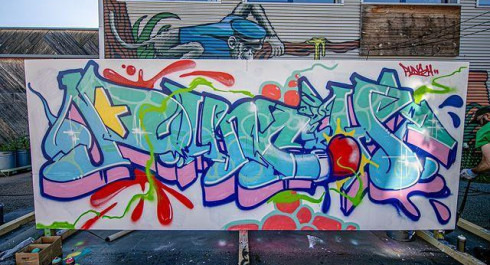 01.07.2023
Graffiti Can't Fail!
Sorry, there's no English version of this text.

Back to the Books devient Graffiti Can't Fail! Il change peut-être de nom mais ce battle à la spray sur panneaux reste LE rendez-vous incontournable pour les artistes graffiti et les writers nationaux·ales et internationaux·ales à la recherche d'un format unique.

24 artistes, toutes et tous préalablement sélectionné·e·s par un jury lors d'un battle de sketch en ligne au mois de mai, vont s'affronter sur le Parvis des Rotondes. En quatre rounds, le jury constitué de représentants de la scène internationale – Dejoe de Berlin, Reso de Toulouse et Metice de Paris – devront élire les gagnant·e·s de l'édition 2023 de Graffiti Can't Fail.

En marge des battles, des créateur·rice·s issu·e·s de la scène graffiti locale présenteront des objets customisés, des meubles peints, du street wear et des toiles.


Genres: Graffiti & Battle
Organizer / Collaboration: Organized by I Love Graffiti a.s.b.l.
In collaboration with Rotondes
Age: From 10 years old
Location: Parvis
Programme: >14:00-20:00 Graffiti Battle + Graffiti Market + Workshop >20:15 Résultats du Graffiti Battle >20:30 Fin
Links:
Saturday 01.07.2023
14H00 - 14H00
Content provided by Echo.lu – Content non-binding and subject to change.

To advertise your event (taking place in the capital) in our calendar, register all the information on Echo.lu and display it on our agenda.